Pour & Sip Tasting Membership: Power by a whisky experts at Master of Malt and Drinks by the Dram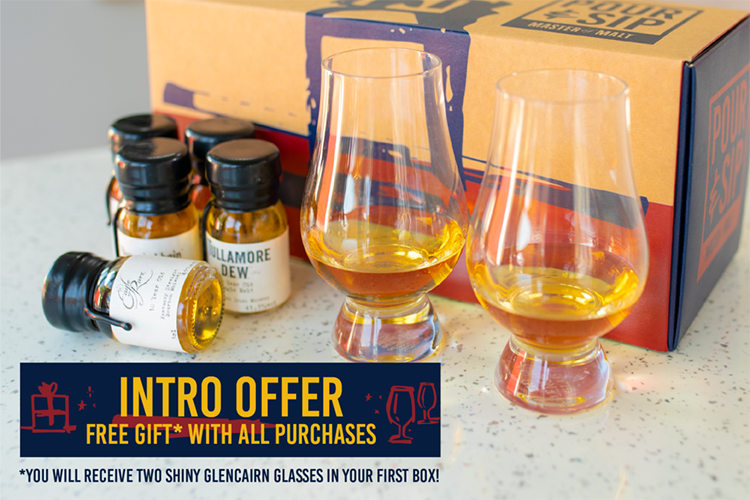 Welcome to Planet Whiskies page all about Pour & Sip, which is part of the Master of Malt family, and is powered by a passionate group of whisky experts. These whisky experts are from both Master of Malt and Drinks by the Dram, and if you take up membership, you're in for a real treat every month. The whole point of Pour & Sip is to provide whisky lovers with the chance to try new whisky month, and five 30ml tasters will be delivered to you each month (£29.95), or there is an option only to receive this every two months (£29.95).
Pour & Sip also understands that people would like to give this as a present to people, so there is an gift option where you can subscribe for three months (£89.95).
So if you want to try fantastic whisky monthly, this membership is for you. It's one of the pleasures our team at Planet Whiskies has the opportunity to taste samples of new whiskies all the time, and it brings us so much joy. And the difference about this membership is you also receive extra exclusive prices on the malts you have tasted, but this time you receive the full bottle at an exclusive price. There are so many hidden gems out there, and this is one way of developing your taste for whisky with new and exciting whiskies.
For more details about the membership options please go to - More about Pour & Sip
This is what you receive with Pour & Sip membership.
Welcome box from Pour and Sip
Your first box includes a welcome pack with two Glencairn glasses and a how-to taste whisky guide
Five tasters
Receive five hand-picked 30ml drams of whisky, delivered to your door each month
Membership perks
Enjoy exclusive prices, perks and limited-time offers on delicious full-sized bottles.
Exclusive content
Be the first to access our amazing live tastings, distillery tours, booze news and more
A whisky community
Share your Pour & Sip journey with our world-wide community of fellow whisky-lovers!
For more details about the membership options please go to - Read more about Pour & Sip
So if interested in this new membership, please click the above link.