Latest Whisky News - Raising the Bar - The Macallan Introduces the Ice Ball Serve - 15th March 2010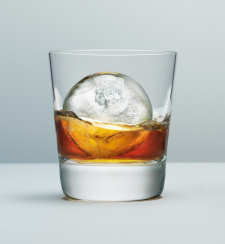 15.03.10 - The ice or water debate has long remained a fiercely contested subject amongst whisky drinkers and The Macallan has thrown its hat into the ring by creating an innovative serving method expressly for those who like their whisky with ice.
Believing the perfect serve to come down to personal preference, The Macallan has pioneered the Ice Ball Serve. It is the first real move by any whisky brand in the UK to present whisky in an innovative, contemporary fashion and open the doors to a growing adult population that regards ice as an integral part of the spirit-drinking experience.
The Ice Ball Serve is based on the Japanese tradition of serving hand-carved ice with ultra-premium spirits. The ice ball press instantly creates a flawlessly formed sphere of ice that adds a touch of theatre and sophistication.
The Macallan's Marketing Assistant, Pat Lee, explains the science part: "The Ice Ball Press was inspired by Japanese cocktail culture where artisans hand-carve ice balls from massive slabs to create an uninterrupted surface that cools spirits quickly and evenly. The ice ball melts slowly to preserve the integrity of the spirit. We have updated this process, by developing a copper press that instantly trims a block of ice into a flawless ice ball. This, combined with our masterful single malt Scotch whisky, is The Macallan Perfect Serve.
"The Macallan's liquid excellence is continuously defined by its unprecedented elegance and versatility. The ice ball balances these qualities. As global cocktail culture has evolved, ice has become central to the modern-day spirits experience. With an eye on this trend, we created The Macallan Perfect Serve, to modernise the way single malt can be enjoyed and appeal to a wider range of consumers."
In essence; The Macallan ice ball serve takes this traditional practice to the ultimate level, with a single perfect sphere of ice, a unique beautiful serve with the benefits of maximum chill with minimum dilution.
Enjoy the perfect ice-ball serve at the following bars and restaurants:
London:
Rules ~~ The Ritz Hotel ~~ Claridges ~~ The Connaught Bar, The Connaught Hotel, London
The Dorchester Hotel, London ~~ Hawksmoor ~~ 50 St. James ~~ Milk & Honey
Artisian Bar, The Langham Hotel ~~ Quo Vardis ~~ Boisdale Belgravia ~~ Blue Bar ~~ The Ivy Club
The Lanesborough Hotel ~~ The Albannach Bar

Scotland:
Balmoral Hotel ~~ Tiger Lily, Edinburgh ~~ The Old Course Hotel, St Andrews 29, Glasgow
Blythwood Hotel (Glasgow) ~~ Dean Bar (Edinburgh) ~~ Caledonian Hotel

Yorkshire:
Oulton Hall, near Leeds, West Yorkshire
<< Back to all the latest whisky news brought to you by Planet Whiskies