Latest News from the whisky industry - Japanese Whisky - Number One Drinks Company - first newsletter- 24th November, 2009
Introduction to the Number One Drinks Company
What can I say? It has been a while since we've sent out a newsletter because the priority has been to find and bottle more exquisite single casks from Japan. I promise to tweet more regularly too, so you know what's going on: www.twitter.com/NumberOneDrinks
Out and About with Number One Drinks Company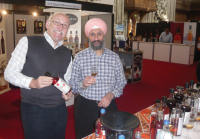 A sunny weekend in September saw Number One Drinks exhibiting at Whisky Live Paris. Again, the event was brilliantly planned and attended by an audience both knowledgeable and too polite to giggle at my poor French. The Card Series was well-received and, predictably, Karuizawa 1967 proved very popular.
Other exclusives for La Maison du Whisky included a Hanyu 1985 which yielded but 61 bottles and two very rare bottlings of Kawasaki Single Grain whisky, one from 1976 and the other from 1981. Thanks go to Nick Sikorski for his tireless assistance all weekend plus his excellent Japanese.
Oslo was the destination for the end of October; bad international whisky planning meant there were five events taking place on the first weekend of November – Whisky Live South Africa, Spirits in the Sky (Belgium), Oslo Whisky Festival, The Whisky Show (London) and Whisky Picnic (Edinburgh). Jekyll's Noh Karuizawa 1995 #5039 was, therefore, launched a week early in Norway. Good food and excellent company matched a complex dram of remarkable intensity.
Thence to The Whisky Show in London's magnificent Guildhall; well organised with excellent calibre of visitor including some old friends, this is sure to become a welcome annual fixture. Two exclusive Karuizawa bottlings for The Whisky Exchange were on display – the venerable 1967 and a rich 1982 – as well as a sneak preview of five Number One Drinks whiskies (see below).
Just back from a great trip in Belgium, now a break until Sweden and Paris in February 2010 with Ichiro Akuto!
What can I say? It has been a while since we've sent out a newsletter because the priority has been to find and bottle more exquisite single casks from Japan. I promise to tweet more regularly too, so you know what's going on: www.twitter.com/NumberOneDrinks
Reviews from Number One Drinks Company
If you bought a bottle of Karuizawa 1995 #5004, the first of the Noh bottlings, you might know that Jim Murray's Whisky Bible 2010 awarded it a score of 93.5/100 – whichmeans it sits at the top of the 'brilliant' category. According to Mr Murray, "seatbelts needed for this enormous ride."
He also reviewed the Card Series Ace of Diamonds and gave it 94.5/100 – a superstar whisky.
The impressively moustachioed Serge Valentin, Malt Maniac extraordinaire, has recently reviewed a pair of Karuizawas and given both 5 stars.
Serge's comments on Karuizawa 1972 #7290; "extremely high quality, perfect balance and not the tiniest flaw. It's got something of some of the best old Springbanks. 93 points." And Karuizawa 1967 #6426; "once again, this baby reminds me of some old Springbanks. Say of the best sherried 'Local Barleys', if that rings a bell to you. A Japanese masterpiece but the 1972 was close! 95 points." If, however, you want a bottle of the 1967 you had better move like the wind; the cask was split between La Maison du Whisky and The Whisky Exchange. It was first revealed at Whisky Live Paris and the French allocation sold out very soon afterwards. It was also the best-seller on the first day of The Whisky Show in London…
Coming Soon with Number One Drinks Company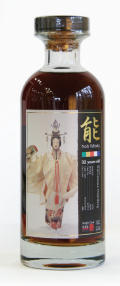 Chichibu Newborn
The journey continues; distilled 18 months ago, double matured and bottled @ 61.3%

Hanyu 1991 #370 Japanese oak finish
Bottled @ 57.3% - according to Dave Broom "definitive extreme whisky, scarily wonderful."

Karuizawa 1985 #7017
Archetypal Karuizawa; high octane sherry with big mouthfeel and great presence @ 60.8%
Distilled in 2000, bottled in 2009 @ 59%

Karuizawa 1976 #6719
The most elegant of the Noh series, a mature charmer @ 63%
Chichibu Newborn Heavily peated
Sensational; a three month old spirit with great character bottled @ 61.3%
See all the Japanese whiskies that you can buy on Planet Whiskies by clicking this link

Distributors
Number One Drinks Company whiskies are available from the following:

BELGIUM The Nectar ~~ FRANCE La Maison du Whisky ~~ GERMANY Prineus ~~ HOLLAND Van Wees
NORWAY Cask Norway ~~ SWEDEN Cask Sweden ~~ SWITZERLAND The Stillman's ~~
TAIWAN Magny International
UK RETAILERS
Berry Bros & Rudd ~~ Hutcheson's Whisky ~~ Nickolls and Perks ~~ Royal Mile Whiskies
Single Malts Direct ~~ The Whisky Exchange ~~ The Whisky Lounge ~~ Whisky Shop Dufftown
<< Back to all the latest whisky news brought to you by Planet Whiskies