Latest News from the whisky industry - Hopscotch Festival - 13th October 2009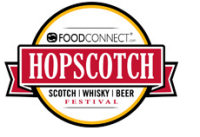 VANCOUVER, BC - October 13: FoodConnect.com's Hopscotch Festival returns for its thirteenth year in 2009 as Canada's biggest whisky and premium beer festival; with many new and exciting changes on hand. The week long event, taking place November 16 – 22nd, brings industry experts and brand ambassadors from across the globe into Vancouver to celebrate "the water of life" while ramping up the excitement within the city, as we gear up for the 2010 Olympic Games.

There are a limited amount of tickets left for one of the festival's main events, the Thursday Night Grand Tasting Hall. Between 6-10pm, on November 19th, guests can taste and learn about the more than 200 whisky, beer, and spirit products available at Rocky Mountaineer Station. There are also tickets left for the Auchentoshan 'SocialReception", as well as Whisky 101 and The Great Whisky Smoke. Many of the festival's events sold out within 48 hours of the event's pre-sale ticket date.

New for 2009 is the inclusion of our new sponsor, FoodConnect.com's, Food Pavilion, showcasing local restaurant's fine cuisine, as well as cheese and gourmet chocolate.

The Hopscotch Festival has grown immensely to become a world-renowned whisky and beer festival, which prides itself on emphasizing the education and history of such products. This is done via tasting, one-on-one conversations and seminars from international guest speakers. Satellite events will be held in and across Vancouver, including (but not limited to) Gotham Steakhouse, The Opus Hotel, The Molson Brewery, and Chill Winston.

Tickets to the Grand Tasting Hall are $40 and include 5 sampling tokens.

Ticket purchasing and information (for guests and/or media) is available at www.hopscotchfestival.com or by calling 604-742-1706.

Media passes and promotional tickets can be requested by e-mailing Adam Bloch, the event producer: adam@crossfireentertainment.ca
Excite your senses!
Canada's Biggest Whisky & Beer Festival.
Over 70 exhibitors & 200+ products
Educational classes & free seminars
Brewery tours & vip tastings
Whisky pairing dinners
**tickets are on sale now**
<< Back to all the latest whisky news brought to you by Planet Whiskies
Get Newsletter
Subscribe to our newsletter to get latest news, popular news and exclusive updates.