Latest Whisky News - 38-year-old Glendronach wins 2010 malt maniacs top award- 7th December, 2010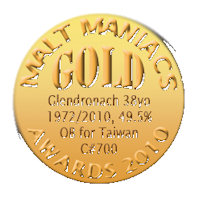 A 38-year-old GlenDronach has become the highest-scoring whisky out of 262 entries in the 2010 "Malt Maniacs" Awards.
The GlenDronach 1972, at 49.5% from cask no. 700, an oloroso sherry butt, and a Taiwan exclusive, achieved a gold medal, 90 points and was also the winner of the "Non Plus Ultra" Award 2010 - which means it was the overall top scoring ultra premium whisky out of all the entries.
Malt Maniacs say theirs is "probably the world's most independent whisky competition. And perhaps the most gruelling!"
Other GlenDronach expressions did well in the competition. The 31-year-old Grandeur won a silver medal and 88 points while the 18-year-old Allardice won a bronze medal and 83 points.
BenRiach also excelled in the awards. The 30-year-old achieved a silver medal and 85 points and the BenRiach 17-year-old Rioja Finish and the 20-year-old also won bronze.
Regional Sales Director Alistair Walker was delighted: "To be awarded first place ahead of another 261 fine whiskies is a wonderful achievement. The 38-year-old is an astonishing malt with a very special and intriguing character, and is testament to the skill of our craftsmen at the distillery. 1972 was clearly an extraordinary year."
The "Malt Maniacs" award is the latest accolade for the company in the last eight years. Top awards include BenRiach becoming Whisky Magazine's World Distiller of the Year 2009 while the GlenDronach 15-year-old won the Gold Medal and was Best in Class in the 2009 International Wine & Spirits Competition.
<< Back to all the latest new brought to you by Planet Whiskies
Get Newsletter
Subscribe to our newsletter to get latest news, popular news and exclusive updates.