Latest Whisky News -Rocker's Gift To Prime Minister Aims To Maintain Political Status Quo - 20th May, 2010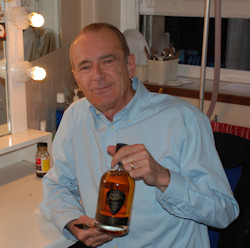 Veteran rocker Francis Rossi has presented David Cameron with a house-warming gift he hopes will ensure the political status quo. Rossi recently acquired the 196-year-old Glen Rossie Whisky and bottle No 10, of a limited edition run of 50 signed and numbered bottles, has been sent to No 10 Downing Street.
The Status Quo frontman, who hopes the new PM will "share a drop with Mr Clegg and the gang", is the new Chairman of Glen Rossie – bottles of which he'd had on his tour bus for the last decade – having acquired a significant minority stake earlier this year.
Bottle No 10, signed and numbered by Francis, was sent along with a letter to the new PM this week in which Francis said: "To toast your success, please have a wee dram on me."
In a nod to Mr Cameron's challenges heading up a new political team, Francis added: "For my day job I've been keeping a band together for 45 years, which certainly isn't easy, even when you play lead guitar. But a chat with the chaps over a sturdy Scotch can certainly help."
Earlier this month signed bottle number No 1 fetched £7,000 at a charity auction. The redesigned bottles have a guitar plectrum-inspired logo in honour of Rossi.
*30 of the 50 first run limited edition, signed and numbered bottle – just like David Cameron's – are up for grabs in an online competition at the new website www.glenrossiewhisky.com.
<< Back to all the latest new brought to you by Planet Whiskies