Eden Mill Unveil New Single Malt Whisky For St Andrews Day
Published Date: 30th November 2018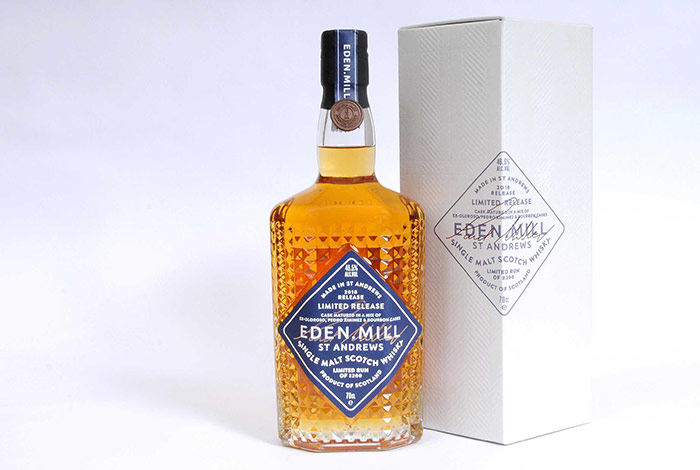 Eden Mill, the popular Scottish gin and whisky distiller, has today (Friday 30th November) announced the release of its new 2018 Single Malt whisky in celebration of St. Andrew's Day.  
Retailing at £79, only 3,200 bottles of this special spirit are available; with less than 2,000 available for sale in the UK.  
The first ever delivery of the special bottles was via three Rolls Royce Phantoms in convoy to two of Scotland's most prestigious hotels: The Old Course, and the Fairmont situated in iconic St Andrews.  
The golden-amber expression comes from a mix of golden promise and propino barley strains and represents the ultimate blend of some of the best 'honey' casks Eden Mill's distilling team have chosen. 
Young casks have been selected, varying in both size and style including, four of the finest Olorosso Sherry hogsheads, four outstanding ex-bourbon first fill American standard barrels and a few exceptional octave barrels which previously held Pedro Ximinez sherry.
The whisky is presented in a premium crisp, white box – perfect for those looking to add to their whisky collection this festive period.  
Paul Miller, Co-Founder of Eden Mill, said, "We are delighted to be able to release our second whisky to our customers just in time for Christmas. This is sure to be a must-have gift for any whisky lover or keen collector.  
"This release is the first in an annual series, which will build over the coming years and we thought it was only appropriate to launch the 2018 Single Malt on St Andrew's Day!"  
Eden Mill's 2018 Single Malt delivers light aromas of vanilla, candied barley-sugar sweetness with a hint of hazelnut. On the palate, sweet and juicy notes of peach and plum emerge. The expressions Sherry influence is most noticeable, with a light, fruitcake character along with sweet, oaky-vanilla. Customers can expect a light whisky, with a candied sweetness that brings delicate spice and hints of dried plum or raisin.  
The 2018 Single Malt is expected to prove popular with new and loyal Eden Mill drinkers and will be available through lead retail outlets such as, Royal Mile Whisky (Edinburgh and London), Luvians St Andrews and Eden Mill's new shop in Glasgow's Princes Square.  
The 2018 Single Malt will also be tasted at the Telegraph Whisky Festival this weekend (3rd and 4th December) in London for the first time. The expression is available from specialist retailers and via the Eden Mill website at a cost of RRP £79 and comes in a 70cl bottle (46.5% abv).  
For additional information please visit: www.edenmill.com
<< View Scottish Single Malts on Planet Whiskies
<< Back to all the latest whisky news brought to you by Planet Whiskies