Bunnahabhain releases oldest ever single malt in tribute to the 'Gaelic God of the Sea': 8th July, 2017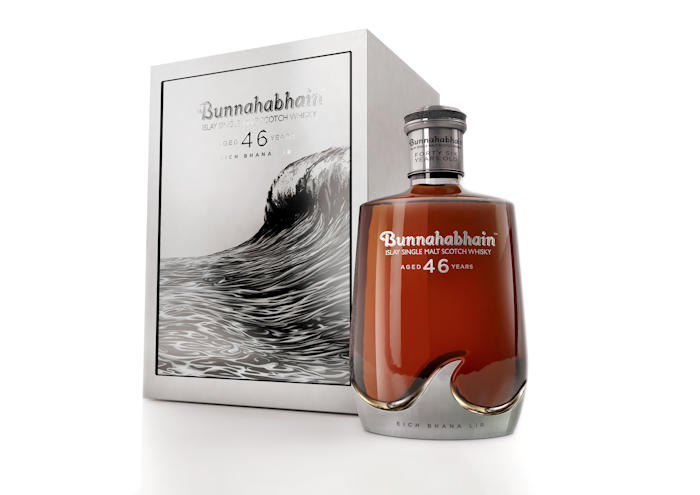 Bunnahabhain distillery has unveiled its oldest single malt to date – the 46 Year Old, "Eich Bhana Lìr" - meaning "The great waves of the God Lìr".  
During the winter months, the distillery warehouses, situated close to the sea on the rugged north‐eastern coast of Islay, are often enveloped by the raging seas. Bunnahabhain 46 Year Old is named after the God Lìr, the powerful ruler of the sea in Gaelic mythology, who used his great white waves to wash ashore his most precious gifts.
The single malt is exceptionally presented in a bottle handcrafted by internationally renowned Italian glass blowers and metalworkers, to portray the waves of the Islay sea crashing into Bunnahabhain bay.
The precious liquid, bottled at 41.8%, is deep gold in colour with an aromatic, elegant and complex nose of old leather with candied orange peel and Manuka honey. On the palate, it is rich and silky – a refined balance of malt, citrus and roasted nuts with a satisfyingly long and spicy finish. 
Carefully distilled and aged at the historic Scottish distillery, just 198 bottles are available worldwide at an RRP of £5,000.
Derek Scott, Distell's Brand Director for Malts, said: "We are extremely proud to be able to showcase this truly unique and luxurious dram created in the most remote corner of Islay.
The distillery's northerly location on the island exposes the casks, in our shore side warehouses, to the sea and elements, making it an idyllic place for the whisky to mature. We are passionate about the uniqueness of Bunnahabhain's special malts and the 46 Year Old Eich Bhana Lìr, features the full depth of flavours, aromas and character that makes Bunnahabhain a consistently award-winning single malt."
To find out more about this latest limited edition release, please visit: www.bunnahabhain.com
<< Back to all the latest whisky news brought to you by Planet Whiskies