Tomatin Double-Decker On Tour in Japan - 8th May, 2012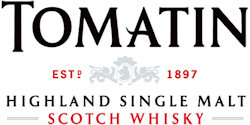 As part of their 300 year anniversary celebrations, the Japanese distributor of Tomatin Single Malt Scotch Whisky is taking the brand on tour around Japan in a Tomatin-branded traditional red London-style double-decker bus.
Kokubu & Co Ltd., established in 1712, is one of the largest food and drink distributors in Japan. They have carried the Tomatin brand since 2005, which is now the 6th best-selling single malt Scotch Whisky in Japan. This bus tour is the first time they have attempted such a campaign, and is one of several events marking the company's anniversary.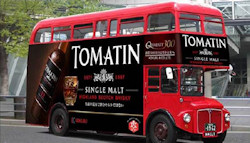 The tour will start on 9th May in Tokyo, travelling to Sapporo, Yokohama, Fukuoka, Hiroshima, Osaka and Nagoya, finishing in Sendai on 3rd July. During its stay in each city, the bus will host a special bar for people to sample and enjoy Tomatin whisky.
Graham Nicolson, Regional Sales Manager, commented: "This is an exciting and innovative campaign and we are thrilled to be associated with Kokubu on this momentous anniversary. Our partnership has gone from strength to strength since 2005 and we look forward to continuing this into the foreseeable future with further brand growth in the Japanese market."
More details at www.tomatin.com.
<< View Tomatin Single Malt Range
<< View more details about the Tomatin Distillery
<< Read about Planet Whiskies tour of Tomatin DIstillery
<< Read more Graham Eunson Master Distiller
<< Back to all the latest whisky news brought to you by Planet Whiskies