The Macallan: Designjunction puts The Macallan in the frame
Published Date:4th October 2012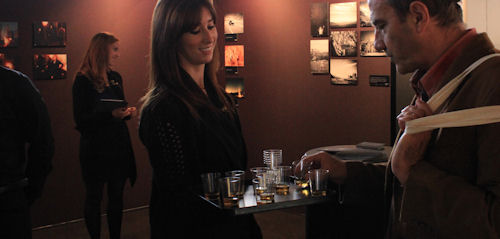 For the first time The Macallan single malt whisky, distributed by Maxxium UK, hosted its own special Masterclass and sampling at this year's designjunction. The Macallan engaged with over 5,500 people throughout the course of the five day event, which is now in its second year and took place in London's Sorting Office, showcasing the finest selection of international design brands.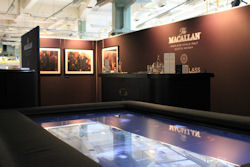 Building on the success of The Macallan's Masters of Photography series involving iconic photographers such as Albert Watson and Rankin, the luxury single malt whisky recently commissioned Annie Leibovitz for the third edition of its award-winning Masters of Photography series.
Those attending this year's designjunction had the opportunity to visit The Macallan Masterclass lounge for an introduction to the brand and The Masters of Photography project. This was brought to life through displays of Kevin McKidd shot in NYC by Annie Liebovitz, capturing The Macallan moment, while providing an insight into the inspiration behind The Macallan Masters of Photography series.
Guests had a unique opportunity to sample the newest arrival to The Macallan's portfolio, The Macallan Gold, the first in the new 1824 series, exclusively available in the UK until spring 2013.
The Macallan team also distributed over 4,800 Gold n' Soda cocktails at the VIP and press launch and at the Pecha Kucha Friday evening event, ensuring The Macallan was at the front of influencers' minds.
Peter Sandstrom, Marketing Director at Maxxium UK, commented: "Those attending designjunction had a natural affiliation with design and photography, making it an ideal platform to allow us to build our brand further. We want to reach out to both existing Macallan fans and also new consumers who share our passion for art and photography, but who may not be familiar with our single malt whisky. designjunction provided us with the perfect opportunity to do this. It was also another great way to give people a chance to see for themselves our superb collaboration with Annie Leibovitz, which has global appeal, learn more and be inspired by our Masters of Photography series."
The Macallan Masters of Photography: Annie Leibovitz Edition sees Leibovitz bring to life the essence of the luxury brand through her unique photographer's eye, with renowned Scottish actor Kevin McKidd cast in the role of leading man. The collection comprises 1,000 bottles of which there are four different single malt expressions crafted to reflect the mood of the signed Annie Leibovitz print, that each is paired with. Shot against four dramatic backdrops in and around New York City, Annie Leibovitz captures the brilliance of a moment where everything comes together, showcasing the stature of whisky as an icon of taste and masculinity.
www.themastersofphotography.com
Please enjoy our brand responsibly - www.drinkaware.co.uk
<< View Single Malt Whiskies in The Macallan range
<< Back to all the latest whisky news brought to you by Planet Whiskies