Southern Comfort Launches Limited Edition Gift Set For Christmas 2014
Published Date: 30th October 2014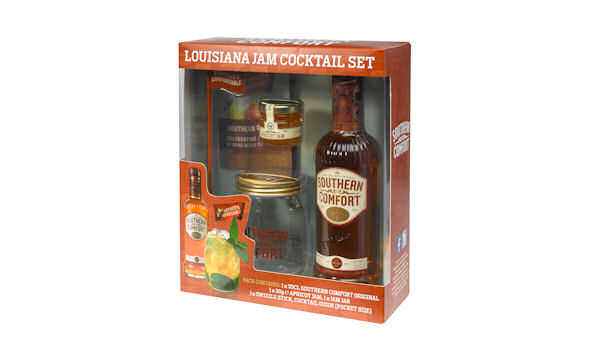 The nights are drawing in; the days are getting colder. Which can mean only one thing… Christmas is coming. Yes, the time when food and drink are savoured and we get excited about opening our presents on Christmas morning (as long as it's not socks. Again!)
Finding the right presents for friends and family can be tricky, especially for the people who already have everything. But there's one thing no one has, yet… A limited edition Southern Comfort Louisiana Jam Gift Set.
The helpful people at Southern Comfort are making your life easier this Christmas by launching a quirky gift set that contains all the ingredients you need to make cocktail favourite Louisiana Jam; including a 35cl bottle of Southern Comfort Original, a jar of apricot jam, a jam jar glass and stirrer. It's the perfect gift for friends, family, neighbours, and if you're feeling generous - your boss.
But sometimes, the best presents don't come in fancy gift sets. If you know someone that loves the great taste of Southern Comfort they'll be delighted to find a 70cl bottle of Southern Comfort Original under the tree this Christmas. No frills, just an awesome drink.
Southern Comfort is a unique mix of whiskey, fruits and spices and tastes awesome in cocktails, but also great on its own. Serve in a tall glass, filled with ice, lemonade and a squeeze of fresh lime. Perfect.
Southern Comfort Louisiana Jam Gift Set costs £25.00 and includes a 35cl bottle of Southern Comfort Original with 35% ABV. Available from selected Tesco stores from 15 December.
Southern Comfort Original is available in a 35cl, 70cl or 1 litre with 35% ABV bottle and is available from all good supermarkets and independent retailers 365 days a year. Keep an eye out for special promotional prices from now until January – meaning you can pick up this refreshingly delicious drink, for less!
To find out more and to join the comfortable, go to Facebook.com/SouthernComfort or visit our new website southerncomfort.com
Stay Comfortable. Drink Responsibly
<< Back to all the latest whisky news brought to you by Planet Whiskies