Bowmore Distillery Celebrates The Past 50 Years By Launching 1961 Release
200 bottles released in small batches over the next four years
Published Date: 4th December 2013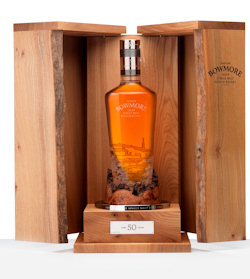 Bowmore, Islay's first Single Malt Scotch Whisky, is launching its latest expression – the Bowmore 50 Year Old - as part of an exquisite and extremely limited range which has included other releases such as the 1957 and 'Eclipse'.
Distilled one very cold day in December 1961, the new-make spirit was then carefully filled into two ex-bourbon hogshead casks by the expert Bowmore Distillery team. Half a century later, the angels have left us with just 200 bottles of this truly exceptional single malt in which hints of black truffles and tropical fruits reveal the full maturity of Bowmore's warm, smoky spirit. With a warm, honey gold texture, the bursts of ripe fruit intermingled with black truffles and gentle smoke manifest themselves in that first sip, leaving you to savour the evolving finish of almond cake and caramelised pears interwoven with subtle peat oils.
The Bowmore 50 year old (1961) is a work of true craftsmanship utilising the finest Scottish materials. The collector, for the sum of £16,000, will acquire a bottle which has been hand-blown by renowned glass sculpting studio Glasstorm, while the neck collars and cork tops of the bottles have been beautifully made by Fattorini Silversmiths. To complete the piece, the bottle will be housed within handmade cabinets which have been crafted in Scottish Elmwood by master carpenter Peter Toaig.
Eddie MacAffer, Bowmore's Master Distiller, said: "This 50 year old Bowmore is yet another wonderful example of the older whiskies that the Distillery has matured in our No. 1 Vaults warehouse, right on the shores of Loch Indaal. This rare whisky was slowly and expertly distilled using the old coal-fired stills used in Bowmore at that time and was then filled into ex-bourbon hogshead casks and carefully stored away in the No 1 Vaults. Now, the result of all that dedication and care, applied since 1961, is about to be revealed. The select people destined to sample the first taste of this special Nectar are privileged indeed."
<< View the range of Bowmore Single Malt Whiskies
<< Back to all the latest whisky news brought to you by Planet Whiskies