BenRiach: Sleeping Giant To Shooting Star In Ten Years
Published Date: 29th April 2014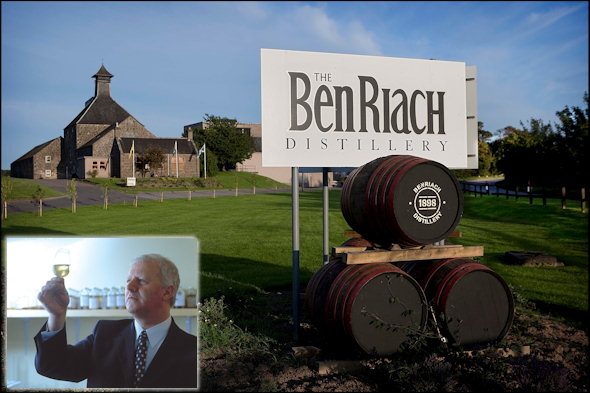 THE BenRiach Distillery Company is delighted to celebrate its tenth birthday today (April 29).
Back in 2004, Billy Walker and his two South African partners Geoff Bell and Wayne Kieswetter purchased BenRiach, turning it into one of Scotland's most admired distilleries.
At the time, renowned whisky writer Jim Murray said: "It was with delight, while sworn to secrecy, that I witnessed BenRiach gaining its independence, when a team led by the experienced and infectiously enthusiastic Billy Walker acquired the Distillery. This independence will allow BenRiach to unlock its secrets and bring its fine and surprising malts officially to the market in their natural state for the first time. There cannot be a single true lover of whisky who will not rejoice because of it."
Production was resumed almost immediately. On August 7 that year, the first bottling of BenRiach under the new company took place while on September 20 the first distillation under the new owners was filled to cask.
Four years later BenRiach acquired GlenDronach. Announcing the purchase, Billy Walker said: "We hope our acquisition of GlenDronach will intrigue, surprise and delight whisky connoisseurs around the world. GlenDronach is a bit of a sleeping giant and we look forward to breathing new life into it, giving it the attention and commitment it deserves."
Two years later the company launched a five-line bottling plant in Newbridge before making its latest acquisition last year. Glenglassaugh, the renowned Highland single malt with its rich and distinguished heritage, was added to the expanding Highland and Speyside portfolio.
BenRiach now enploys 120 people across four sites
The firm currently employs 120 people across its four sites. Over the ten years the three brands have won numerous prestigious awards including "Best International Business Award" in the 2005 Enterprising Scotland Awards and "Distillery of the Year" in the 2007 Malt Advocate Awards.
Most recently, BenRiach, GlenDronach and Glenglassaugh won five main awards and a total of twelve medals in the 2013 Malt Maniacs Awards following that up with 10 medals at last year's International Wine and Spirits Competition, with all three brands scooping major awards.
Reflecting on the first highly successful decade, Billy Walker said: "We find ourselves in one of the golden periods of the industry. There's unprecedented demand for high-end brands in places like Taiwan, Scandinavia, USA, China, India, Russia, the Middle East, South Africa and South America. For the future we'll take time to allow our brands' personalities to develop."
He went on: "We are a privately owned, independent, creative, boutique business. We see each distillery as having 'Grand Cru Chateau' provenance. Our people are totally passionate. We recognise the privilege that we enjoy by owning three very historic distilleries and that we have the freedom to express the personalities of these distilleries in the marketplace. We'll see where that journey takes us in the next ten years."
To mark today's exciting milestone, a special BenRiach 10-year old anniversary expression from the first distillation will be available later this year. And, intriguingly, Billy hasn't ruled out further acquisitions for the company. "If something came up adding balance to the business, we'd consider it."
See all the Single Malts Whiskies from BenRiach Distilery
Read more about the history and see contact details for BenRiach distillery
<< Back to all the latest whisky news brought to you by Planet Whiskies