World's Largest Collection Of Rare Corti Whisky Up For Auction held by Perth based Whisky Auctioneer: 30th January, 2018
The auction is live and will close on Monday 5 February.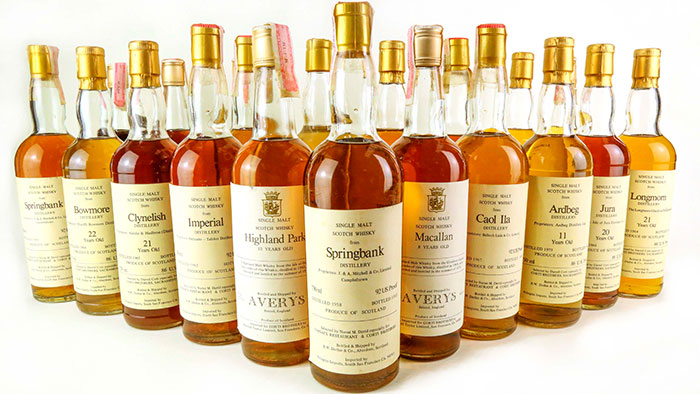 The world's largest known selection of rare and collectable Corti Brothers whiskies will go under the hammer in an online auction currently being held by Perth based Whisky Auctioneer (www.whiskyauctioneer.com). 
The selection of 26 bottles, 21 of which are unique, has been built up by a UK based whisky enthusiast. The bottles, which are being sold individually, are expected to sell for an estimated total of £50,000.
The Corti collection of whiskies, which are known as the 'Duthie for Corti' as they were bottled by Aberdeen based R.W. Duthie Co, were all selected and imported to the United States by The Corti Brothers for bottling, throughout the 1980s. 
Often an overlooked name within the whisky industry, the Corti Brothers have played a significant role in the history of independently bottled Scotch whisky. The food and wine specialists took advantage of a downturn in the industry in the 1980s and secured a range of casks from some of the industry's most iconic distilleries, including Clynelish, Jura and Macallan. 
The collection of bottles for auction is the most comprehensive set of Corti Brothers bottlings ever assembled in one sale. Amongst the lots on offer are a bottle of Highland Park 1963, which is the only bottled example of Highland Park from this vintage.   
Also available is a Jura 1966, Springbank 1958, Bowmore 1964 and arguably the most sought after of all, a very rare 1965 Clynelish (one of only a handful of whiskies to score 98 on www.whiskyfun.com). This particular vintage occupies a special place in the history of Scotch whisky, having been distilled at the old distillery, renamed first to Clynelish B when the new one was built, and then later to Brora – an iconic name within the secondary market.  
The average price of each individual bottle is anticipated to be in the region of £2,000.00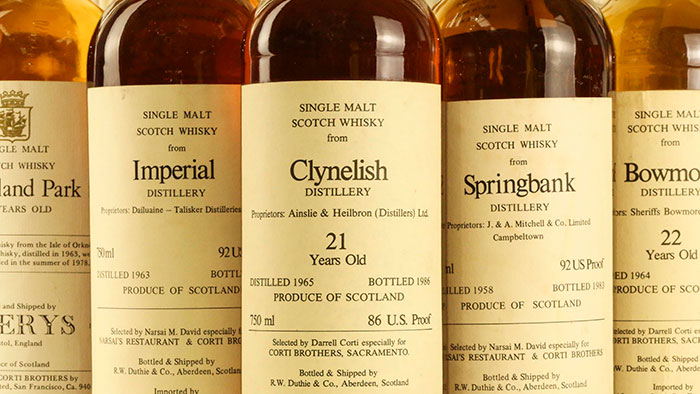 Sean McGlone, Directior at Whisky Auctioneer, said: "These bottlings represent an important turning point in the recent history of Scotch whisky and are one of the most highly prized series in terms of quality and variety. No one has ever sold such a large collection of Duthie for Corti bottles, so this is a one-off.  We are already seeing a great deal of interest in the collection from some of our regular customers across the world and we anticipate demand for the bottles to be high."
The sale is a coup for Perthshire firm Whisky Auctioneer which specialises in auctioning fine, old, rare and collectable whisky. The auctioneer recently sold a rare 30 year old bottle of second edition Black Bowmore single malt whisky for a world record £11,900. 
The auction is live and will close on Monday 5 February.
For more information on the auction or to register to participate please visit www.whiskyauctioneer.com
<< Back to all the latest whisky news brought to you by Planet Whiskies