Wemyss Malts new Single Cask releases for July 2014 including 31 yo from Bowmore Distillery - 23rd July, 2014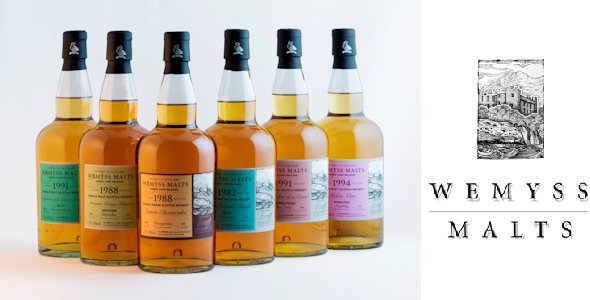 Edinburgh based boutique Spirits Company Wemyss Malts is delighted to announce the release of a new parcel of single cask Scotch whiskies. The latest release includes a single grain single cask whisky for the first time and the most valuable whisky Wemyss has ever released in a 31 years old single cask from Bowmore distillery.
Each cask is a celebration of the unique and contrasting appeals of the different Scotch whisky regions and the latest release covers grain whisky and four of the regions: from Islay, Highlands, Speyside and Campbeltown. Wemyss whiskies are each named after their natural taste and aroma and the full cask list of this release comprises:
"Lemon Cheesecake" - 1988 single cask from Invergordon, Single Grain
"Loch Indaal Catch" - 1982 single cask from Bowmore, Islay
"Oysters with Lemon Pearls" - 1991 single cask from Bunnahabhain, Islay
"Aromatic Orange Tobacco" - 1988 single cask from Glenrothes, Speyside
"Melon Vine" - 1994 single cask from Aberfeldy, Highlands
"At Anchor in a Cove" - 1991 single cask from Glen Scotia, Campbeltown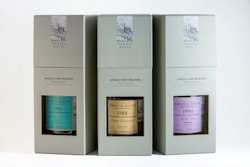 Each cask has been selected and named by the Wemyss tasting panel, under the watchful eye of industry aficionado Charlie Maclean. There are only a few hundred bottles from each cask and the suggested retail prices range from £80 to £700. These bottlings will be available in selected retailers in the UK, EU and key Asian markets.
William Wemyss, Founder and Managing Director at Wemyss Malts, commented: "We are delighted to continue to offer a range of single casks to include some exceptional rare whiskies. This latest release includes our first ever single grain single cask and a very old and valuable Bowmore."
Read more about Wemyss Malts and buy online
<< Back to the Wemyss Malts main page
<< Back to all the latest whisky news brought to you by Planet Whiskies