Latest News from the whisky industry - Isle of Skye goes to the races - 16th December, 2009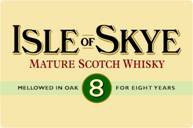 Edinburgh 16 December 2009: Isle of Skye 8 Years Old Blended Scotch Whisky has announced a new sponsorship deal with Scottish Racing.
The exciting new partnership, to commence in January 2010, will name Isle of Skye 8 Years Blended Scotch Whisky as the sponsor of the Scottish Racing 'Trainers' Championship' and official whisky partner at all five Scottish Race courses - Ayr, Hamilton Park, Kelso, Musselburgh and Perth.
The sponsorship deal includes award presentations at race days throughout the year, to the top National Hunt and top Flat racehorse trainer at each individual track, as well as to the top overall Scottish Flat and Jump trainer with runners at all five Scottish racecourses over the year. In addition, Isle of Skye 8 Years Old will be stocked in bars at all of the courses. Promotional activity will also include a range of joint marketing initiatives such as on course advertising support, website promotion and point of sale.
Iain Weir, Marketing Director for Ian Macleod Distillers, commented: "The sponsorship of Scottish Racing will form a key part of our 2010 (and beyond) marketing programme. We are delighted to be working with Scottish Racing to promote Scotland's unique, popular and highly regarded racecourses. Scottish Racing is built on a commitment to tradition and excellence, values that sit very well with Isle of Skye 8 Years Old Blended Scotch Whisky.
Commenting on the new sponsorship deal, Jonathan Garratt, Commercial Manager of Scottish Racing said: "Isle of Isle of Skye 8 Years Old Blended Scotch Whisky will be our official whisky partner for 2010 and we could not wish for more enthusiastic supporters. Whisky is one of the major ingredients within Scotland's hospitality experience and we are very proud to be associated with this top quality blend, which I am sure will go down very well with all our customers."
The Scottish Racing partnership is an integral part of Ian Macleod Distillers' brand development strategy for Isle of Skye 8 Years Old Blended Scotch Whisky, which aims to raise the profile of the award-winning whisky throughout Scotland and beyond. This builds on last month's announcement that Isle of Skye 8 Years Old Blended Scotch Whisky was stepping up its sponsorship of Scotland's number one National Hunt racehorse trainer, Lucinda Russell and her team at Arlary House Stables.
The five Scottish racecourses stage approximately 100 fixtures each year and welcome more than 320,000 visitors for both Flat and National Hunt (Jump) racing.
Isle of Skye 8 Years Old Blended Scotch Whisky will be available at all of the public bars at the five racecourses, along with three other Ian Macleod brands, award-winning Glengoyne Highland Single malt, London Hill Gin and Watson's Trawler Dark Rum.
Isle of Skye 8 Years Old Blended Scotch whisky is available at 8 Years Old, limited edition 21 and 50 Years Old. An exceptionally smooth and mellow Scotch whisky containing a high proportion of carefully selected Island and Speyside Malts, the 8 Years Old has been described by whisky expert Jim Murray, as "an absolute must for any Islay-philes out there – in fact, a must for everybody. Your taste buds are beaten up and caressed simultaneously. One of the most enormous yet brilliantly balanced whiskies in the world."
The Isle of Skye 8 Years Old is available in a range of sizes - 1.5 litre, 70cl, 35cl and 5cl with a recommended retail price of £13.99 for 70cl.
For further information visit: www.isleofskyewhisky.com or www.scottishracing.co.uk
Curious to discover more? Contact Ian Macleod Distillers Ltd on tell: 01506 852205 or see www.ianmacleod.com. For UK distribution for Isle of Skye Blended Scotch Whiskies, contact Harvey-Miller Wine & Spirit Agencies on tell: 08445 611252 / www.hmwsa.com
<< Back to all the latest whisky news brought to you by Planet Whiskies