Latest Whisky News - The Glenrothes Ultimate Gentleman's Cocktail Contest - 13th November 2009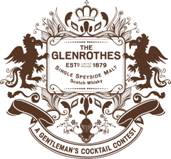 13th November, 2009 - The Glenrothes is hosting The Ultimate Gentleman's Cocktail Contest in The Voodoo Rooms, Edinburgh on Monday the 30th of November, starting at 6.30pm (until late), and would be most delighted if you could don your flat caps and finest tweed in joining them for an evening of entertainment.
Hosted by The Glenrothes' own mixologist Andy Gemmell, the competition will bring together 14 of Scotland's finest bartenders and showcase their skills in designing, preparing and creating a top class tipple.
Using The Glenrothes Select Reserve, these specially selected chaps and chappettes will go head to head in creating a cocktail that encompasses everything that a gentleman would want from a beverage with finesse.
The judging panel will comprise some well known names within the drinks industry including Ronnie Cox, the Global Brand Ambassador for The Glenrothes and Simon Difford, editor of CLASS Magazine. There are also two special guests on the panel who will not be revealed until the evening of the event.
The stakes are high as there is a lot to play for - the creator of the winning cocktail will win a VIP trip to The Glenrothes Distillery in Speyside, a bottle of The Glenrothes Vintage 1991 and an array of cocktail making goodies. The two runners up will also be invited to stay at The Genrothes Distillery.
The Voodoo Rooms will be running special deals on The Glenrothes cocktails so why don't you pop along for an alternative Monday night and enjoy one.
The Glenrothes, introduced in 2005 is a popular tipple amongst whisky connoisseurs. The Select Reserve is a versatile yet unique malt laced with notes of ripe fruits, juicy citrus, creamy vanilla and hints of spice - making it the perfect liquid to partner with cocktails.
On the evening, contestants will be given three minutes to create a cocktail which contains at least 30ml of The Glenrothes and a maximum of six other ingredients. They will be marked on name, balance, simplicity, taste, originality, presentation, delivery and performance.
If you think you have what it takes to partake in this unique cocktail competition, please contact Andy Gemmell at andy.gemmell@maxxium.com.
<< Back to all the latest new brought to you by Planet Whiskies