Glengoyne Distillery Goes Great Guns for Help for Heroes
Published Date: 26th April 2013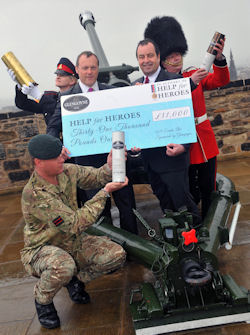 26 April 2013: Military charity Help for Heroes is in dram fine spirits following a significant donation of £31,000 from Ian Macleod Distillers, owners of Glengoyne Highland Single Malt Scotch Whisky.
Glengoyne raised the money through the 2013 Glengoyne Auld Enemy Dinner at The London Dorchester on the eve of the world's oldest international rugby fixture, the Calcutta Cup on 1 February 2013. Attended by a host of sporting legends, internationalists and other celebrities including Martin Johnson, Andy Nicol, Jill Douglas, John Inverdale and Olympic canoeist David Florence, the funds were generated through a silent auction and ticket sales.
Neil Boyd, UK Commercial Director and Alan Wardrop, UK Sales Manager for Ian Macleod Distillers presented the cheque at the One o'Clock Gun at Edinburgh Castle to: Combat Lance Corporal James Kitching, Sergeant Alistair Murray and Bombardier Allison Jones - all stationed at Edinburgh Garrison at the Castle - on behalf of Help For Heroes.
Help for Heroes will donate the money raised to the HQ Hereford Garrison Clocktower Fund, a charity that supports servicemen and servicewoman through the provision of social, sporting and other facilities. This brings the total amount of funds raised for the charity by Glengoyne to just over £46,000 in a year.
Neil Boyd said: "Glengoyne is honoured to be presenting this cheque to Help for Heroes, a worthwhile charity helping those who have been wounded in Britain's conflicts. Glengoyne recognises the passion and enthusiasm that comes through sporting events and we look forward to hosting the Glengoyne Golf Day and Gala Dinner on 30 August 2013, Fairmont St Andrews once again raising money for Help for Heroes. We are extremely proud to support them."
Colonel Phil Bates Edinburgh Garrison Commander said: "Glengoyne's continued fundraising is invaluable and we are delighted at the significant amount raised. 
The money will help transform lives of those that have been wounded in service and we cannot thank them enough."
Tickets are available now for the Glengoyne Golf Day and Gala Dinner, in support of The Soldiers' Charity, RAF Benevolent Fund, Royal Navy, Royal Marines Charity and Help for Heroes, however places are limited. For more information please visit http://www.woundedinserviceevents.co.uk/cgblog/1/28/Glengoyne-Golf-Day-and-Gala-Dinner.

<< View the range of Glengoyne Single Malts
<< Back to all the latest whisky news brought to you by Planet Whiskies