Glen Scotia unveils Limited Edition Rum Cask Finish to celebrate its Campbeltown Malts Festival programme
Published Date: 17th June 2019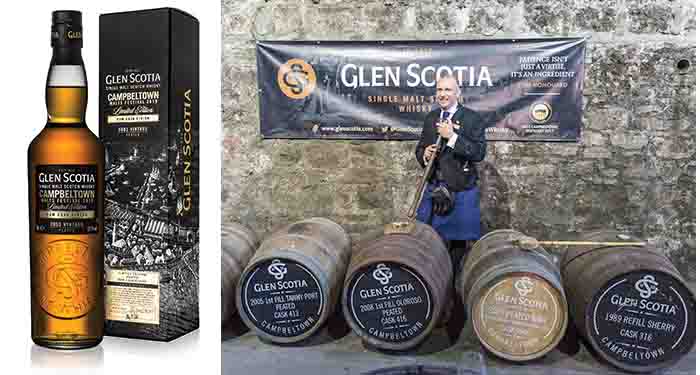 Glen Scotia has introduced a new Limited Edition Rum Cask Finish Single Malt to celebrate its Campbeltown Malts Festival programme. 
The festival, which was held last month, showcases all that is unique and special about single malts from the region. In the Victorian era the town was home to more than 30 distilleries and known as 'whisky capital of the world'.  
Today Glen Scotia is one of just three surviving local distilleries and its award-winning whiskies are known for their distinctive Campbeltown character. 
To mark its biggest ever festival events programme, the distillery has released its Glen Scotia Campbeltown Malts Festival 2019 Limited Edition Rum Cask Finish.  
A 2003 Vintage, this wonderfully peated single malt delivers sea spray and sweetness on the nose, with notes of melted brown sugar, pineapple and citrus fruits developing before delivering a long dry finish, with spice and sweet peat. 
Non-chill filtered, it has been bottled at cask strength, 51.3% ABV, to ensure this exquisite single malt is enjoyed as nature intended. Around 9,500 bottles of this highly collectible limited edition release will be available worldwide.  
Iain McAlister, Distillery Manager at Glen Scotia, said: "Our new limited edition rum cask single malt offers whisky fans something very special, bringing together the maritime influences associated with Campbeltown and the sweet, tropical notes of rum – another sea-faring spirit.  
"As someone who was born and bred in Campbeltown, I am very proud of our distinctive history and heritage. I hope whisky lovers have fun discovering our latest exceptional single malt."  
Hundreds of visitors from all over the world took part in tours, tastings and more at Glen Scotia as part of its packed programme during the Campbeltown Malts Festival. Highlights included tastings at its historic dunnage warehouse and two sold-out whisky dinners held at the Ardshiel and Ugadale Hotels.  
The distillery also hosted local MSP Michael Russell to launch its new campaign to recognise Campbeltown, the fifth and smallest of Scotland's official malt-producing regions, as the 'whiskiest place in the world'. Glen Scotia is has introduced new branding as part of the global campaign. 
To find our more visit www.glenscotia.com.
<< View more malts from Glen Scotia
<< Read more about the Glen Scotia Distillery
<< View Scottish Single Malts on Planet Whiskies
<< Back to all the latest whisky news brought to you by Planet Whiskies