Duke And Duchess Of Cambridge Officially Re-Open Scotland's Oldest Distillery, the Glenturret Distillery home to The Famous Grouse Experience
Published Date: 29th May, 2014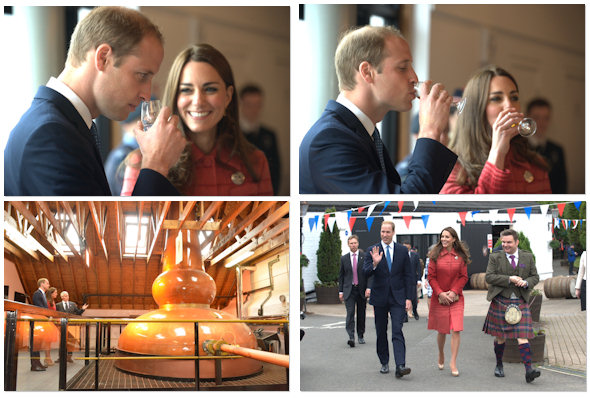 Glenturret Distillery, Scotland's oldest and most visited whisky distillery and home to The Famous Grouse Experience, welcomed The Duke and Duchess of Cambridge today (Thursday 29 May).
The Earl and Countess of Strathearn, as they are known in Scotland, officially opened the new-look five star visitor attraction which recently announced the completion of a £250,000 investment in its key visitor areas and café.
They enjoyed a private tour of the distillery, complete with a nosing and tasting of The Famous Grouse range, before becoming the first people to "Bottle your own" Glenturret whisky.
Following this, the Royal couple attended the Civic Reception hosted by the Provost of Perth and Kinross, Liz Grant. In attendance were local people from the Perthshire area, invited as recognition for their work in the community.
A local pie created especially for the Royal visit was part of the menu and served to the guests. The Strathearn Pie, produced by Perthshire based company Wilde Thyme, was made with slow cooked local beef and onions sautéed in Glenturret whisky.
Stuart Cassells, General Manager, The Famous Grouse Experience, commented: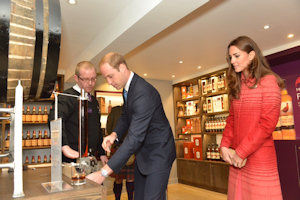 "It was an absolute pleasure to welcome The Earl and Countess of Strathearn to The Famous Grouse Experience. With such strong links to this area through their Scottish titles, we couldn't think of anyone more perfectly placed to open our new-look visitor areas. All the staff here at the Experience won't be forgetting this day anytime soon!"
Nestled at the foothills of the Highlands near the scenic town of Crieff, Glenturret Distillery is the spiritual home of The Famous Grouse Blended Scotch whisky.
Originally established as a single malt distillery in 1775, today The Famous Grouse Experience welcomes an average of 120,000 visitors every year.
Like all visitors, the Royal couple were shown how a single malt is made in the traditional way by Stillman, Ian Renwick. They were also shown how some of the Glenturret single malt is then blended along with other grain and malt whiskies to create The Famous Grouse, which has been Scotland's favourite whisky for over 30 years, and is one of the world's top 5 Scotch whiskies.
The Famous Grouse Scotch whisky holds a Royal Warrant, which was first appointed in January 1984.
<< Back to all the latest whisky news brought to you by Planet Whiskies