Chivas Harnesses Community Spirit In Search For The 2018 Chivas Masters Global Champion : 8th January, 2018
Applications Open For Bartenders Who Creatively Capture The Spirit Of Their Community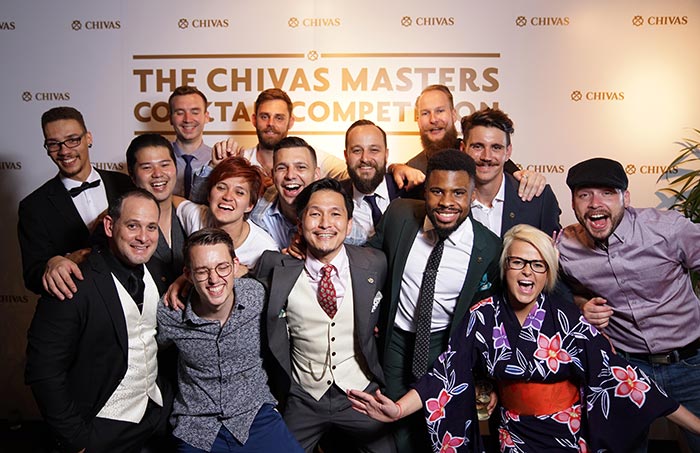 Photo caption - Chivas Masters Global Final 2017
8th January, 2018: Chivas Regal, the world's first luxury whisky, has launched its search for the 2018 Chivas Masters Global Champion. Now in its fifth year, the Chivas Masters is a global competition that celebrates bartenders who demonstrate cutting-edge skill and creativity and share Chivas Regal's core values of community, collaboration and generosity.
Launching in 22 countries across six continents, the Chivas Masters offers bartenders a once in a lifetime opportunity to grow their skills in a collaborative environment where they can learn from peers, alumni and industry experts from across the globe. This year, the theme of community will sit at the very heart of the competition, with the national stages challenging participants to produce a Chivas drink that is inspired by someone in their local community. The winner of each of the 22 national finals will go on to the Global Final to represent their market and compete for the coveted title of Chivas Masters Global Champion 2018.
This year's Global Final will be hosted in the United Kingdom - both in London and at Strathisla distillery in Speyside, the spiritual home of Chivas Regal. Throughout a series of masterclasses and intense individual and team challenges, the bartenders' skills and creativity will be tested, and they will have to prove that they can be as generous with their expertise as they are with a dram of Chivas Regal, by collaborating with their fellow finalists to achieve shared success.
At the culmination of the six-day programme, the Chivas Masters Global Champion 2018 will be crowned, and will win an all-expenses-paid trip to Tales of The Cocktail 2018 in New Orleans, and the chance to travel the world with Chivas to inspire the bartenders of the future.
Max Warner, Global Brand Ambassador for Chivas Regal, comments: "At Chivas Regal, we believe that generosity and success go hand in hand – a belief inspired by our founding brothers, James and John Chivas, who shared their success with the local community as their business grew. These are the values that have influenced the Chivas Masters right from the start, and the reason why in 2018 we are beyond excited to bring the Global Final home to where our brand, values and indeed our own community were born."
If you think you have what it takes to be the next Chivas Masters Global Champion, visit https://www.chivas.com/chivasmasters to find out more.
<<To see the history and buy whiskies from Chivas Brothers
<< Back to all the latest whisky news brought to you by Planet Whiskies