>Bowmore Unveils Islay Taste Map With Martine Nouet
Published Date: 28th November 2011
Since this press release was written in October 2011 the map is now available online at www.islaytastemap.com.
The ultimate companion and guide to Islay Single Malt whiskies
a href="http://www.islaytastemap.com" target="_blank" title="Islay Taste Map" >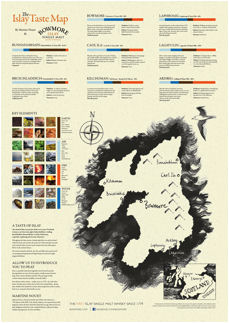 This autumn, Bowmore, the first Islay Single Malt whisky, has collaborated with esteemed whisky writer Martine Nouet to create the Islay Taste Map.In a bold move to support the Islay category as a whole, the map, which is the first of its kind, is the ideal guide to the complex and very varied characters of Islay's eight magical distilleries: Ardbeg, Bruichladdich, Bunnahabhain, Caol Ila, Kilchoman, Lagavulin, Laphroaig and Bowmore. Launched as an educational tool for both the on- and off-trade, the map will also be available for consumers to access online from November.
Bringing to life the ancient elements Earth, Air, Fire and Water that make up Islay's mild yet uncompromising climate, the map uses colour-coordinated taste profiles to illustrate how each of the elements is reflected in the whiskies from each distillery. From the peaty and mossy cues of EARTH; the floral notes of heather and sweet meadow in AIR; the smoke, bonfires and burnt wood of FIRE; to theocean air, sea salt and wet sand of WATER – each distillery has a unique taste profile. The map also explains how the whiskies taste indoors and out alongside a character profile and tasting notes.
In development for over a year, the map has been created in collaboration with esteemed whisky writer and Islay resident Martine Nouet. Known as the 'The Queen of the Still', Martine was carried away by Islay's distinct yet varied fragrances when she first visited the island 20 years ago.
Founded over two centuries ago in 1779, Bowmore is the first recorded distillery on Islay and one of the oldest in Scotland. As with all Islay Single Malts, Bowmore whiskies are renowned for its peaty smokiness. The Distillery carefully smokes its own malt just as their ancestors did centuries ago, using skills handed down from generation to generation. Nurtured and matured in the legendary warehouses below sea level, the No. 1 Vaults, Bowmore Single Malt is widely acknowledged to be amongst the finest and most perfectly balanced in the world.
UK Distributor: Cellar Trends on 01283 217703 or enquiries@cellartrends.co.uk
<< Back to all the latest whisky news brought to you by Planet Whiskies
Distillery of the Month: November 2023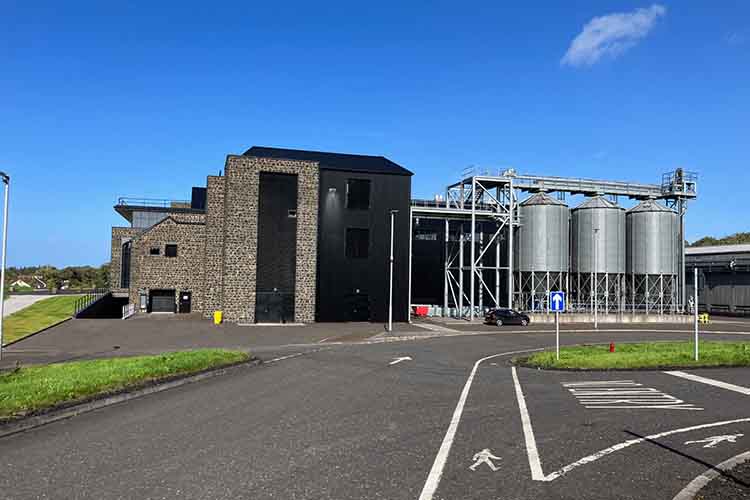 Planet Whiskies visited the new Bushmills Distillery in Northern Ireland on the 25th and 26th of September. Read our review of the experience of Bushmills and Northern Ireland at Planet Whiskies tour of Bushmills and Northern Ireland
You can also read the whole section about Bushmills Distillery at Bushmills Distillery Information on Planet Whiskies... So Bushmills is Planet Whiskies Distillery of the Month title for November 2023
Get Newsletter
Subscribe to our newsletter to get latest news, popular news and exclusive updates.