Ballantine's Christmas Reserve in Demand Ahead of Festive Season 23rd November 2012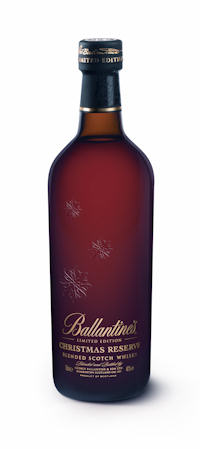 Ballantine's, the No 1 Scotch whisky in Europe, is rolling out Ballantine's Christmas Reserve Limited Edition to more markets than ever before this year, due to increased demand from markets looking to capitalize on the lucrative festive season.
The third edition of Ballantine's Christmas Reserve will now be available in fifteen markets - including France, Germany, Poland and China - following the success of the limited edition seasonal expression since 2010.
To support this year's release, the brand is launching a new Facebook app that invites users to virtually 'pass the parcel' to their friends, with a chance of winning a bottle of Ballantine's Christmas Reserve. To further engage consumers with the festive blend, the app provides seasonal recipes made with Ballantine's Christmas Reserve, including mince pies and Clementine Bauble cocktails.
Peter Moore, International Brand Director for Ballantine's, comments: "The festive period is notoriously competitive for retailers, so we're delighted to be offering Ballantine's Christmas Reserve to more of our customers around the world this year. This special edition provides consumers seeking the ideal festive gift with exceptional quality and excellent value."
He continues, "Our customers rightly expect fresh thinking from Ballantine's so we hope our new Ballantine's Christmas Reserve Facebook app will be well received and will help spread some festive spirit this Christmas."
Available from October to December 2012, Ballantine's Christmas Reserve is presented in a superior white presentation box, decorated with snowflakes and elements of gold foil. The design adds a premium festive feel and ensures maximum shelf stand-out for Ballantine's during the busy sales period.
With its luxury seasonal aromas including cinnamon, orange, raisin, candy apple and pear, Ballantine's Christmas Reserve is ideal served on its own over ice or as the base for seasonal cocktails.
To access the Facebook app, consumers are asked to visit: click here
<< Back to all the latest whisky news brought to you by Planet Whiskies