Ardbeg Distillery: By Popular Demand – Ardbeg Supernova Returns SN2010 Launched Today
Published Date: 31st May 2010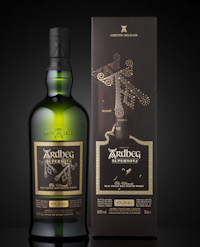 Ardbeg – the iconic malt whisky distillery on the remote island of Islay – has launched the second edition of its award winning single malt Supernova, described by the Company as "the peatiest Ardbeg ever".

A preview bottling of the first edition sold out last year in a record 112 minutes when it was offered for sale online – making it the fastest selling whisky in the Distillery's 195-year history. It was snapped up online in an exclusive offer to members of the Ardbeg Committee, a group of 53,000 Ardbeg fans across 112 countries.

The second edition – Ardbeg SN2010 – challenges the palate with the same phenomenal levels of peatiness as the 2009 release but with a higher strength at 60.1 per cent ABV and a deeper, earthier character. This second limited edition release is at least 40 per cent more "peaty" than the Distillery's renowned and already very heavily peated flagship – Ardbeg Ten Years Old.
The 2009 edition of Ardbeg Supernova – which takes its name from the "galactic explosion" as stars end their lives – was awarded the prestigious accolade of "Best Scotch Whisky of the Year" in Jim Murray's latest Whisky Bible.
Hamish Torrie, Brand Director Ardbeg, said: "With its hot, sizzling and grainy sensations that effervesce and explode on the tongue followed by a powerful peaty punch, this is truly yet another galactic explosion of aromas. Limited supplies of Ardbeg SN2010 coupled with last year's record sell out, means we are anticipating it may not be available for long."
Dr Bill Lumsden, Head of Distilling and Whisky Creation, commented: "We believe with Ardbeg SN2010, we have created a compelling whisky which will again, like the 2009 release, both delight and challenge those looking for an 'out-of-this-world' whisky experience. The intensity of flavours is Ardbeg at its most powerful and peaty and yet we always have that delightful layered, sweet complexity that makes Ardbeg such a sensational dram."
Ardbeg SN2010 will be available from 31 May in limited quantities online at www.Ardbeg.com and at specialist whisky shops at a price of around £80.00 in the UK.
<< See the range of Ardbeg Single Malt Whisky
<< Back to all the latest whisky news brought to you by Planet Whiskies