Three New And Very Special Releases From BenRiach And GlenDronach
Published Date: 4th December 2014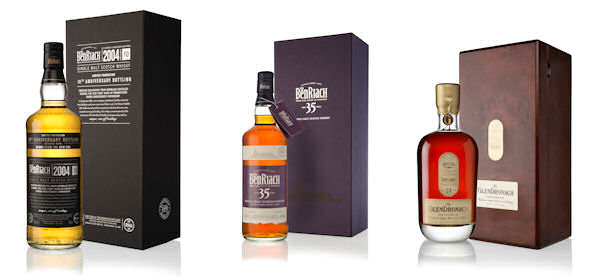 Strange, isn't it? Sometimes you wait for a bus, and it takes a long time to come along. And other times, without having to wait, three come along simultaneously!
That's exactly the situation today with three remarkable new releases from The BenRiach Distillery Company – two from BenRiach itself and one from GlenDronach.
And the wait has certainly been worth it because these three expressions are absolutely sensational.
Let's start with BenRiach.
The BenRiach 10th Anniversary bottling is a strictly limited one-off bottling to commemorate a very special occasion.
Back in 2004, Billy Walker and his two South African partners Geoff Bell and Wayne Kieswetter purchased BenRiach and turned it into one of Scotland's most admired distilleries.
On September 20 that year, the first distillation under the new owners was filled to cask. Ten years on, Billy Walker has married together four outstanding casks from the first week of production to create this limited bottling, at 46% vol, with only 1106 bottles available for sale.
The four bourbon barrels - 7257, 7258, 7259 and 7260 - distilled on September 21, 2004, are perfect choices to celebrate BenRiach's tenth birthday, as the tasting notes show.
COLOUR :
Gleaming rich harvest gold.
NOSE :
Ripe white pear, fruit salad syrup and rich clotted cream hold a crisp twist of candied peel and soft vanilla.
TASTE :
Crisp barley with peppery toasted oak and stem ginger flood over rich crème brulee, coconut butter and vanilla poached pear.
Also released today is another exclusive expression – the BenRiach 35 years old.
Non-chill filtered, bottled at natural colour and at 42.5% vol., it superbly complements BenRiach's award-winning 25 years old which was released in 2006. And like the 25 years old, the 35 years old is a classic Speyside, proffering some lovely fruit notes and dry spice – sweet, fruity and simply beautiful.
Billy Walker's tasting notes show this is an exceptional malt to be consciously savoured, enjoying every stage from nose to tongue to afterglow with each sip.
COLOUR:
Gleaming rich golden amber.
NOSE:
Luscious tropical fruit salad syrup with a delicate ripped mint and chocolate back note; all warmed by a gentle toasted oak spice.
TASTE:
A classic Speyside style combining waves of papaya and dried apricots with freshly-sawn oak spices, touches of golden syrup and distant milk chocolate which gently flow through the elegant long finish.
And completing today's trio of outstanding releases is Batch 6 of GlenDronach's renowned "Grandeur" series, a welcome warming dram for a crisp, cold evening.
This latest stellar batch from the Aberdeenshire distillery is an exceptional 24 year old whisky that's been specially selected by Billy Walker from some of the oldest and most characterful Oloroso sherry casks at GlenDronach.
Bottled at 48.9% vol and individually numbered by hand, the batch is limited to just 1180 bottles and generously filled with luscious fruity aromas, rich sherry and dark chocolate flavours.
COLOUR :
Glistening burnt amber holds a rich crimson heart.
NOSE :
A magnificent combination of honey-drenched dates and succulent raisins which gently ebb and flow with waves of delicate orange blossom, mint and cracked black pepper. Hints of glazed cherries and toasted almonds perfectly complement the seductive nose. A nose to be appreciated slowly and often.
TASTE :
A fabulously full-bodied, vibrant palate captures a multitude of classic sherry cask characteristics. The delicate sweetness of rum-soaked golden sultanas refines rich espresso, dark chocolate and treacle toffee. Zesty orange oil softens to a deep clove spice and prolongs the ever-changing palate. A sublime example of understanding the relationship between cask and single malt perfectly.
Sales Director Alistair Walker commented: "Winter brings much that has to be endured but this trio of new releases will help lift your spirits. They are stunning drams that brilliantly sum up everything we do at BenRiach and GlenDronach."
All three are available from today.
Keep an eye on our websites www.benriachdistillery.com/en-gb/ and www.glendronachdistillery.com
<< Buy Glendronach Malt Whisky
<< Read more about BenRiach Distillery
<< Back to all the latest whisky news brought to you by Planet Whiskies
Distillery of the Month: November 2023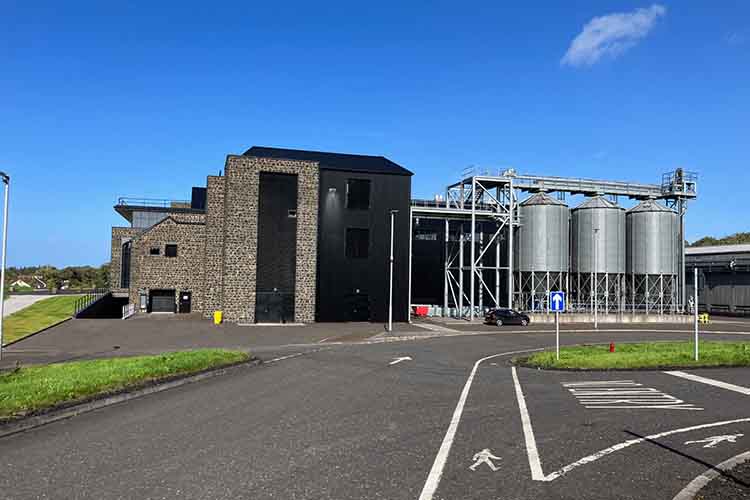 Planet Whiskies visited the new Bushmills Distillery in Northern Ireland on the 25th and 26th of September. Read our review of the experience of Bushmills and Northern Ireland at Planet Whiskies tour of Bushmills and Northern Ireland
You can also read the whole section about Bushmills Distillery at Bushmills Distillery Information on Planet Whiskies... So Bushmills is Planet Whiskies Distillery of the Month title for November 2023
Whisky Advent Calendars 2023
Get Newsletter
Subscribe to our newsletter to get latest news, popular news and exclusive updates.