The Glenrothes Triumphs In World Whisky Design Awards - 28th March, 2013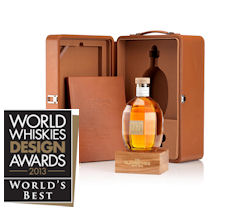 Berry Bros. & Rudd Spirits is delighted to have won two awards in Whisky Magazine's prestigious World Whisky Design Awards. The Glenrothes Single Cask 1970 #10573, the inaugural release in the Extraordinary Cask Collection, won World's Best Single Malt – Limited Edition as well as the overall title of World's Best Design.
The World Whiskies Design Awards recognise excellence in bottle, label and pack design on an annual basis and are judged by an international panel of design experts.

According to Rob Allanson, Editor of Whisky Magazine; "This year saw some excellent designs put before the judges, who had many long and detailed discussions before settling on the winners. However, with its stunning clear lines and excellent presentation, the design of The Glenrothes Extraordinary Cask stood head and shoulders above its peers."
Luke Tegner, Brands Marketing Director of Berry Bros. & Rudd Sprits, added; "Our primary obsession at The Glenrothes is the quality of our whisky. A malt as venerable and outstanding as our 1970 single cask merits the same level of care and attention in its design and packaging that we adhere to in our whisky-making and maturation."
The Glenrothes 1970 Extraordinary Cask #10573 is available from Berry Bros. & Rudd and its representatives in key markets.
Prices will start at £3,000 (€4,000 or $5,000) and upwards per bottle.
<< Back to all the latest new brought to you by Planet Whiskies