Glenglassaugh Releases Rare 51 Years Old Single Malt Whisky - 4th December, 2014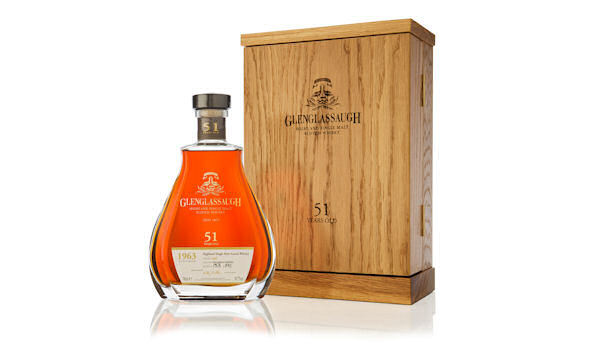 Glenglassaugh Distillery is today (4 December) extremely proud to launch a sumptuous 51 Years Old single malt.
This complex and sophisticated dram is an extremely rare, one-off whisky. Bottled at cask strength on May 14 this year, non-chill filtered and with no colour added, this is truly an exceptional dram.
Specially selected by Master Distiller Billy Walker, the rich and flavoursome whisky is from 1963 cask 3301 and has been maturing in our coastal warehouses at Portsoy for over 51 years. Distilled and filled to cask on February 15 1963, it is one of the oldest casks in our inventory and brilliantly captures Glenglassaugh's unique Highland coastal character.
Founded in 1875 by local entrepreneur James Moir, Glenglassaugh was mothballed for over twenty years, lying silent and forgotten until production was re-started in 2008. It was taken over by BenRiach last year and the distinctive fruity character of its whisky is loved by all who discover it.
Master Distiller Billy Walker said: "We've inherited some extraordinarily fine whisky at Glenglassaugh. It's a real treasure trove and the 51 years old is the oldest bottling ever released from Glenglassaugh...and it is of unbelievable quality.
"It's a gorgeous Glenglassaugh - a silky, sublime balance of fruits and herbs mingling seductively with astonishingly refined oaken notes. Put simply, it is elegance personified."
Colour: Rich mahogany holds a deep crimson edge.
Nose: Fascinating depths and layers develop from figs and prune syrup to delicate apricot and hints of blackberry. All carry invitingly subtle soft Belgian chocolate and intriguing hints of roast coffee.
Palate: The exclusive mellow yet full-bodied character gives a rich, complex symphony of red fruit preserve, touches of treacle and the slightest mountain herb influence. Gentle clove oil, distant sour cherries and the softest peppery oak add a memorable sophistication to this rare vintage.
Finish: The rarity of the vintage mirrors the rarity of the unique characteristics of the whisky. Combining many facets of its ever-changing nature as it opens on the palate, the style and elegance of this rare whisky are to be savoured.
The Glenglassaugh 51 Years Old comes in a beautiful wooden box, hand-crafted in Scotland. Each bottle is hand-numbered and comes with a certificate of authenticity signed by Billy Walker.
Read more at www.glenglassaugh.com.
<< Back to all the latest new brought to you by Planet Whiskies