Clydeside Distillery has Christmas all wrapped up for whisky fans. New tours launched as perfect Christmas gift ideas
The Whisky & Chocolate Tour and The Distillery Manager's tour
Published Date: 15th November 2018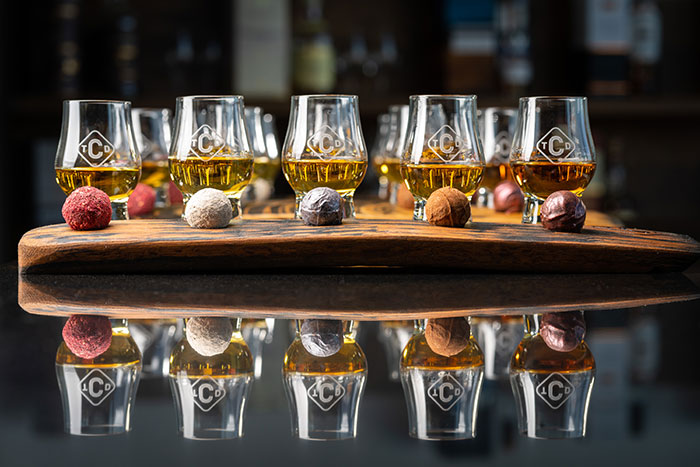 The Clydeside Distillery has introduced two brand new tours as part of its visitor experience.
Now available to book online and from the distillery itself, The Whisky & Chocolate Tour offers visitors a unique combination of delicious artisan chocolates, made by local Glasgow chocolatier Stacy Hannah Chocolates, with five carefully selected 10ml drams of Single Malt Scotch Whisky and The Clydeside's New Make Spirit.
A perfect conclusion to The Clydeside's self-guided tour where guests can discover the fascinating story about the distillery and its location, each dram is perfectly paired with a different flavoured chocolate, made freshly by hand using superior cocoa beans and specially sourced ingredients.
Hosted by your Clydeside guide in the Blender's Room, the Whisky & Chocolate Tour will offer visitors magnificent views of The Clydeside's stunning copper stills, as well as the River Clyde and the surrounding sights.
The selection of hand-made chocolates from Stacy Hannah Chocolates includes: Pear & Cardamom, Salted Caramel, Berry & Lavender and Passionfruit, Ginger & Chilli. Made using specially prepared fruit purées, coconut oil and coconut milk, the chocolates are dairy free making them suitable for vegans and those with a lactose intolerance.
Stacy said: "I am very proud to be working with the team at The Clydeside Distillery and provide my products for their new Whisky & Chocolate Tour. I'm passionate about sourcing the finest chocolate and ingredients to ensure the flavours match perfectly to the flavour notes of the whiskies."
In addition to the Whisky & Chocolate Tour, The Clydeside has also introduced the Distillery Manager Tour, an exclusive tour personally hosted by Distillery Manager Alistair McDonald. Offering a maximum of six guests a unique experience, this tour includes the self-guided element telling The Dockyard Story followed by samples of a selection of 10-year-old whiskies and canapés in the Blender's Room with gifts to take home including branded glasses and a bottle of Clydeside New Make Spirit.
Taking guests on a step-by-step journey of the craftsmanship behind The Clydeside's New Make Spirit, Alistair will take you on a behind the scenes tour of the distillery, where our team use traditional methods and time-honoured skills to produce the distillery's spirit, now in casks as we wait patiently as it matures.
Bridgeen Mullen, Visitor Centre Manager at The Clydeside said: "It's very exciting to have these new tours available for our guests. Not only are they perfect for whisky fans of all knowledge and experience, with Christmas fast approaching they also make ideal gifts.
"Pairing whisky with chocolate has become incredibly popular so being able to work with Stacy Hannah chocolate who are based near us here in Glasgow was an added bonus. Like us, Stacy is passionate about quality, provenance and locally-sourced products and we look forward to giving our visitors the opportunity to combine whisky with delicious artisan chocolates."
Visitors, tourists and whisky enthusiasts have the choice of three different bottles of 10-year-old whiskies which they can label. The Islay, Lowland and Highland expressions are part of the distillery tour and each have their own characteristics and tasting notes. Visitors can handwrite a bespoke label with their, or a loved one's, details - making for a truly special memento from their visit and a stunning gift. 
The three 70cl bottles are priced at £35 each for the Lowland, Highland and Islay and can be purchased either as part of a distillery tour or individually from the distillery shop. Guests taking a distillery tour are eligible for a 5% discount of the label your own bottle price. 
The Whisky & Chocolate Tour is priced at £28pp and limited to six people maximum per tour.
The Distillery Manager's tour is priced at £120pp and available weekly on a Thursday at 2.00pm.
For more information, visit: www.theclydeside.com
<< View Scottish Single Malts on Planet Whiskies
<< Read more about Scottish Distilleries
<< Back to all the latest whisky news brought to you by Planet Whiskies