Chivas Regal Ultis: The Essence Of Chivas Regal :: launched Chivas Regal Ultis :: blended malt Scotch whisky :: 3rd October, 2016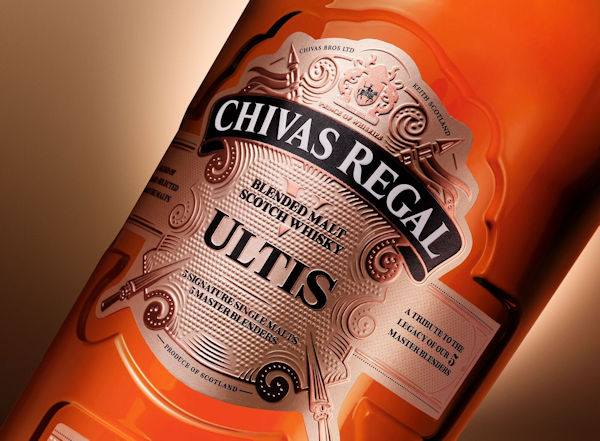 <<To see the history and buy whiskies from Chivas Brothers
Chivas Regal, the world's first luxury whisky, has launched Chivas Regal Ultis; the first blended malt Scotch whisky from the House of Chivas.
Capturing the true essence of Chivas Regal, Chivas Regal Ultis uses only five of Chivas Regal's most precious, signature single malts from Speyside, Scotland, and represents the style and diversity of this prestigious, world-renowned whisky region.
The latest release has been crafted with hand-selected malts from Tormore, Longmorn, Strathisla, Allt A'Bhainne and Braeval, presenting complex flavours, a golden hue and a commanding rich aroma. Out of millions of casks in inventory at Chivas Brothers, less than 1% are used to create Chivas Regal Ultis, with the expert blending team individually nosing and selecting those of the highest quality to craft the blend; a traditional method of hand-selection that is no longer standard in the Scotch whisky industry today.
Since 1909, only five men have ever mastered the iconic Chivas Regal house style, and Chivas Regal Ultis pays tribute to the strength of vision, commitment and mastery of Master Blenders; Charles Howard, Charles Julian, Allan Baillie, Jimmy Lang and of Custodian Master Blender, Colin Scott.
The luxurious Chivas Regal Ultis bottle mirrors the precious whisky within and is designed to provide impactful on-shelf stand-out with a slender shape and contemporary crest in gold champagne. In honour of the Chivas Regal Master Blenders and representing the five signature malts within, the bottle features a unique pen-clip closure which is etched with five rings, and a striking placement of the Roman numeral figure for five on the highly crafted base and within the textured crest label.
Colin Scott, Chivas Regal Custodian Master Blender, comments: "I am honoured to have been one of only five Master Blenders for Chivas Regal, and I believe that Chivas Regal Ultis represents the true essence of this iconic Scotch whisky.  With the release of Chivas Regal Ultis, only the most precious single malts from five signature Speyside distilleries have been selected to craft this luxury blended malt whisky from the House of Chivas."
"The crystalline freshness of Tormore shines through along with the contrasting, hint of spicy warmth present in Allt A'Bhainne, while the Longmorn single malt adds balance to the blend. The floral style of Braeval complements the fruity sweetness of Strathisla to create a complex and rich blended malt Scotch whisky. Chivas Regal Ultis is a blend that draws on expertise that has been handed down throughout the centuries and it will delight whisky connoisseurs around the world."
Richard Black, Chivas Regal Global Brand Director, adds: "To launch the first blended malt Scotch whisky from the House of Chivas is truly a momentous occasion. Chivas Regal Ultis represents the essence of Chivas Regal and is a fitting tribute to our legendary craftsmen of the past, with recognition of the luxury quality of our Scotch whisky portfolio. Chivas Regal Ultis is set to appeal to discerning drinkers looking to impress at special occasions as well as Scotch whisky aficionados searching for their next luxury whisky experience."
Chivas Regal Ultis will be launching globally in all major retailers and travel retail from October 2016 at a RRP of USD$200.
<< Back to all the latest whisky news brought to you by Planet Whiskies
Distillery of the Month: November 2023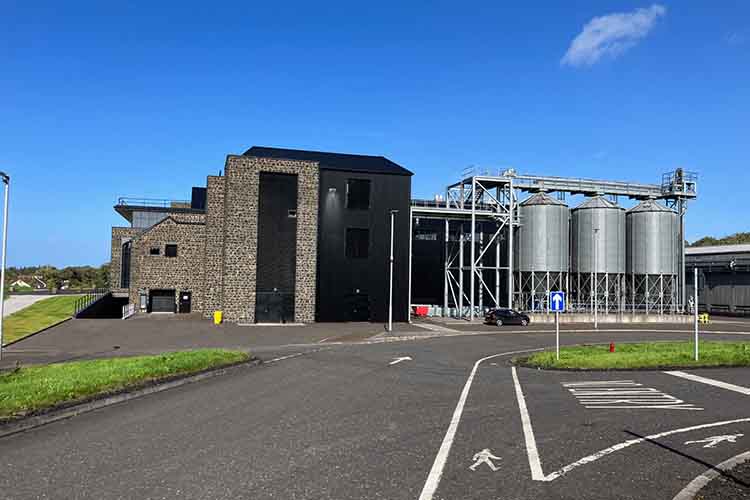 Planet Whiskies visited the new Bushmills Distillery in Northern Ireland on the 25th and 26th of September. Read our review of the experience of Bushmills and Northern Ireland at Planet Whiskies tour of Bushmills and Northern Ireland
You can also read the whole section about Bushmills Distillery at Bushmills Distillery Information on Planet Whiskies... So Bushmills is Planet Whiskies Distillery of the Month title for November 2023
Get Newsletter
Subscribe to our newsletter to get latest news, popular news and exclusive updates.