Generosity: Amplified :: Chivas Regal Partners With Lstn Sound Co. to Craft New Limited Edition Gift Tin :: 27th September, 2016
Published Date: 27th September 2016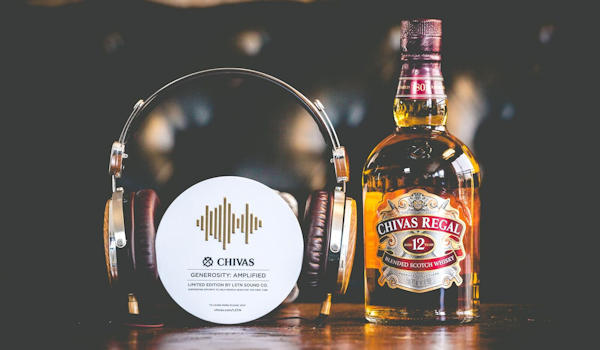 Chivas Regal, the world's first luxury Scotch whisky, has partnered with premium audio producers LSTN Sound Co., to craft a range of unique whisky and music accessories to celebrate their shared passion for craftsmanship, style and generosity. The initiative – Generosity: Amplified – features a range of activity aimed to raise funds for Starkey Hearing Foundation, including an innovative limited edition Chivas 12 Year Old gift tin, a line of handcrafted headphones and a custom-designed luxury record console.
The creative partnership between Chivas and LSTN Sound Co. has seen the creation of a limited-edition gift tin each containing a bottle of Chivas Regal 12 Year Old Scotch whisky. Inspired by sound, and featuring images of deconstructed headphones the gift tin has been designed to create disruptive on-shelf presence with a new square-to-round shape.
Chivas and LSTN Sound Co. have also created a limited edition run of handcrafted headphones, using elements of upcycled American oak whisky casks and modelled on LSTN Sound Co.'s best-selling 'troubadour' shape. Additionally, a custom-designed record console by LSTN Sound Co., Chivas and social entrepreneurs Maderas will go on sale as the ultimate piece for the discerning gentleman.
Richard Black, Chivas Regal Global Brand Director, added, "We're very proud to announce Chivas' partnership with LSTN Sound Co. We share many of the same beliefs about doing business the right way and look forward to supporting their mission with Starkey Foundation. The creative up-cycling of the American Oak offers a fantastic opportunity to not only create an exciting and stylish new product for the modern gentleman, but truly change lives in the process."
Both Chivas and LSTN Sound Co. recognise the growing desire amongst modern gentlemen to seek authenticity and depth in both their lifestyle choices and purchase decisions, so a percentage of the profit from each pair of Generosity: Amplified headphones and each limited edition gift tin created will be donated to Starkey Hearing Foundation - a pioneering charity that has provided more than 1.8 million hearing aids and care to people in need in the last 30 years. It is estimated that the partnership will give around 15,000 people the gift of hearing.
The Generosity: Amplified limited edition gift tin will be available globally from September 2016 for the RRP $40USD. A limited run of headphones are now available to buy from www.lstnsound.co, and to find out more about the partnership between Chivas Regal and LSTN Sound Co., visit www.chivas.com/LSTN .
<< To see the history and buy whiskies from Chivas Brothers
<< Back to all the latest whisky news brought to you by Planet Whiskies