Global sensation 'of monsters and men' set to rock bushmills live 2013 - only indie music festival in an irish whiskey distillery
Published Date: 11th March 2013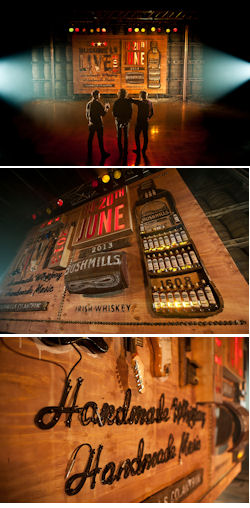 Bushmills Village: 11th March 2013: The Old Bushmills Distillery today announced that it will throw open its doors to play host to world class headline acts and emerging indie talent at 'Bushmills Live' - a unique two-day festival celebrating handcrafted whiskey and music.
Bushmills Live will take place on Ireland's stunning North Coast on 19th and 20th June 2013 and is the only indie music festival in an Irish Whiskey distillery.
Internationally acclaimed indie folk band, Of Monsters and Men will headline the two day festival - their first ever gig in Northern Ireland.
The Icelandic five-piece are currently enjoying enormous worldwide success having just won the 2013 European Border Breakers Award*, which honours the best new European music acts. Of Monsters and Men have been dubbed the 'must see act' of the year and this summer marks the beginning of a busy festival schedule for the group which will include a performance at one of the biggest international festivals, Coachella in California - making their intimate appearance at Bushmills Live unlike any other that fans will experience this year.
Only 500 tickets are available globally for Bushmills Live, which will see both iconic and emerging artists share the stage for a series of intimate gigs in age-old buildings at the historic Old Bushmills Distillery, where the art of distilling has been perfected over generations.
The 'money can't buy tickets' will not go on general release. Instead, music and whiskey fans can win the chance to attend the festival by entering a draw on the Bushmills Irish Whiskey Facebook page – facebook.com/bushmills1608. Entries to the draw will open this Sunday, on St Patrick's Day at 16:08 GMT.
Ragnar Þórhallsson, singer with Of Monsters and Men, said: "Playing a show in such a unique location, around the centuries-old warehouses and whiskey barrels, to such an intimate audience, is an experience we are very excited about. It's going to make our first gig in Northern Ireland a memorable one, and not just for us, for the fans too, we hope!"
Of Monsters and Men are in good company. They join a list of fellow indie rockers such as the iconic Snow Patrol, singer-songwriters Foy Vance and Iain Archer, Elijah Wood, Benjamin Francis Leftwich, Marcus Foster, The Staves, General Fiasco and David C Clements who all played electrifying performances at Bushmills Live last year.
Bushmills Live can also be credited with providing a great platform for up-and-coming music acts to launch their careers. The Staves have gone on to support Bon Iver on his global tour while Foy Vance has had continued success and is set to support Ed Sheeran on the European and US legs of his 2013 tour.
Speaking at the launch of this year's event Master Blender at The Old Bushmills Distillery, Helen Mulholland, promised fans that they can expect to enjoy "great music between great friends."
"Whiskey and music have always gone well together", added Helen Mulholland. "And at Bushmills Live we like to make both by hand, bringing this fusion of handcrafted whiskey and handcrafted music together against the backdrop of our beautiful distillery with performances from artists who are friends - which makes for a cracking atmosphere!"
"It goes without saying that we're looking forward to extending a warm Bushmills welcome to our new friends, Of Monsters and Men, and to emerging artists who we're proud to support by creating a music platform that allows fans to discover new and upcoming talent.
"I can't wait to reveal the rest of the line up in the coming weeks. We're of course just as excited to open our doors to whiskey and music fans the world over who want to attend Bushmills Live, so get your entry in and good luck!"
<< Back to all the latest whisky news brought to you by Planet Whiskies