Ballantine's Creates The World's First Gamified Golf Content For Fans Around The World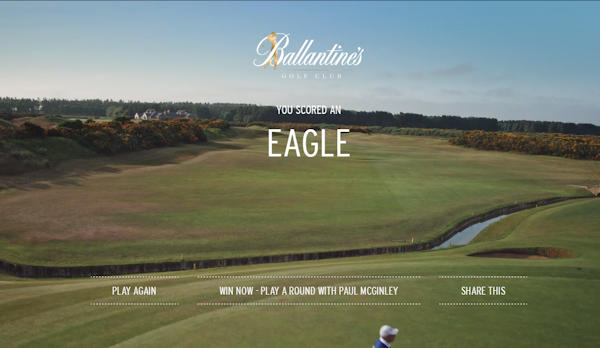 Published Date: 27th September 2016
Ballantine's, the No.1 Scotch whisky in Europe and No.2 globally, has unveiled its innovative 'Call the Shots' film series featuring 2014 Ryder Cup-winning captain, Paul McGinley – reinforcing Ballantine's original approach to engaging with appreciators of golf and fine Scotch whisky around the world.
Hosted on the Ballantine's Golf Club website (www.ballantinesgolfclub.com), Call the Shots represents a world-first for real world gamified golf content. The concept allows viewers to control the shot selection of Ballantine's Golf Club Captain Paul McGinley from tee to green through a gamified learning experience. The interactive video series is designed to test users' course management abilities by only allowing players to shoot the lowest score possible if they make the right call for every stroke.
Filmed on the Dirleton Links course at Archerfield Links Golf Club in Scotland, the films are part of a series of innovative content available at the Ballantine's Golf Club. The series features the opportunity to direct McGinley through a full par 5 as well as taking on a par 3 and 4, mirroring the typical challenges a golfer is likely to encounter on the course. In addition, the Ballantine's Golf Club is offering one member and a friend the opportunity to test their course management for real by winning a round with Paul McGinley at one of the most iconic golf courses in the UK.
Ballantine's Golf Club Captain and Ryder Cup legend Paul McGinley commented: "Call the Shots is a fantastic concept that continues golf's evolution in the digital world. The film is designed to help golfers understand the importance of course management in an innovative and engaging way, in line with the overall approach of the Ballantine's Golf Club. Good luck, and try and stay out of the water!"
Peter Moore, Global Brand Director for Prestige Brands at Chivas Brothers, said: "As pioneers of the digital revolution in golf, we are very proud to launch our Call the Shots series with our Club Captain Paul McGinley. As the world's first online golf club, we are committed to providing our members with engaging and exclusive content in an innovative way they won't find anywhere else. Call the Shots represents exactly what our modern Club has been built on, by taking the traditional elements of golf to the next level."
The Ballantine's Golf Club is the world's first online golf club, a place where members can join a global community of passionate enthusiasts and access unique online content. The Club lives both on and offline, is free to join and offers associates a series of prizes, content and the exclusive members' only tournament, the Ballantine's International Cup.
To find out more about the Ballantine's Golf Club please go to:
www.ballantinesgolfclub.com
<< To see the history and buy whiskies from Ballantine's
<< Back to all the latest whisky news brought to you by Planet Whiskies