The Macallan Reaches Strong Numbers in the Art World - 6th February, 2013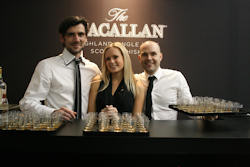 The Macallan single malt whisky, distributed by Maxxium UK, has reported strong sampling figures after attending its third art show. Providing over 20,000 samples and cocktails, The Macallan introduced consumers to the newest edition of The Macallan's portfolio, The Macallan Gold.
Those attending designjunction*, The Liverpool Biennial** and most recently The London Art Fair*** visited The Macallan Masterclass lounge in large numbers. Not only did they sample the new luxury single malt whisky, The Macallan Gold but they also found out more about The Macallan's third edition of the successful Masters of Photography Series, involving iconic photographer Annie Leibovitz.
For this year The Macallan's sampling programme focused on the contemporary art world. The Macallan engaged with over 5,550 people during designjunction (September 2012), which took place over five days in London's Sorting Office, showcasing the finest selection of international design brands. The Macallan team also distributed over 4,800 Gold n' Soda cocktails at the VIP and press launch and at the Pecha Kucha Friday evening event, ensuring The Macallan Gold was at the front of influencers' minds.
Building on the success of designjuction, The Macallan then headed north and attended The Liverpool Biennial (September – November 2012), sampling over 500 consumers in one weekend during the ten week event, which sees Liverpool come alive with a range of extraordinary art exhibitions and events.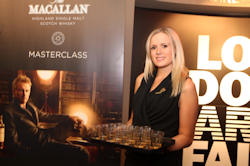 The Macallan continued its successful sampling programme at The London Art Fair (January 2013), which featured over 100 galleries and showcased the work of the greatest names of 20th century British art and exceptional contemporary work. In addition to the sampling figures, 5,500 Macallan Gold cocktails were sampled over the two preview evenings, bringing the total sampling figure to 9,300 over 6 days. This was largely attributed to the draw of the Annie Leibovitz exclusive shots, which provided The Macallan with strong standout.
Peter Sandstrom, Marketing Director at Maxxium UK ltd, commented: "With a high trial to conversation rate it's important we allow people to taste The Macallan for themselves. Sampling is therefore a key part of The Macallan's investment plan, which will allow us to grow the brands popularity and introduce new consumers to whisky. Venturing into the world of art and engaging with those with a genuine interest in art and photography has provided us with an excellent platform to do just that.
"The numbers which we have reached over the course of the last five months are extremely encouraging. Going forward we want to build on these figures giving consumers an insight into our Masters of Photography Series and help build momentum for The Macallan."
* designjunction: 19 – 23 September 2012
** The Liverpool Biennial: 15 September – 25 November 2012
*** The London Art Fair: 15 – 20 January 2013
www.themastersofphotography.com
<< View Single Malts bottles within the Macallan range
<< Back to all the latest whisky news brought to you by Planet Whiskies