Blue Note Bourbon + Riverset Rye Earn Five Gold Medals At 2020 Microliquor Spirit Awards. Also 90 point rating on Whiskey Advocate For Blue Note 9 Year Old
Published Date: 28th October 2020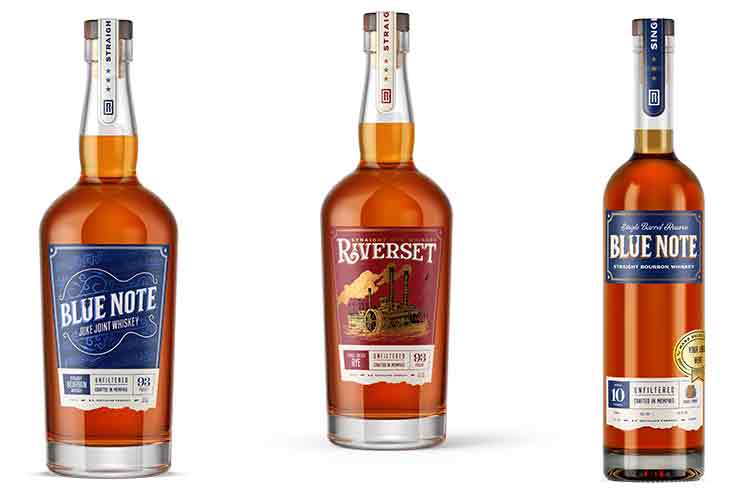 MEMPHIS, TN: Blue Note Bourbon Premium Small Batch, Blue Note Bourbon Juke Joint, and Riverset Rye were recognized recently at the 2020 MicroLiquor Spirit Awards with five Gold Medals for both taste and design. The MicroLiquor Spirit Awards is the world's first spirits competition for craft and emerging brands. The Blue Note 9 year old has also just been received an 90 point rating on Whiskey Advocate which is very exciting for everyone involved at B.R Distilling Company.
After taking home Double Gold and Gold medals in 2019, recognition is not a new accomplishment for B.R. Distilling Company. Inspired by music and driven by flavor, B.R. Distilling Company products have made a name for themselves in the spirits industry since its founding in 2013 earning numerous accolades and medals in the North American Bourbon and Whiskey Competition, John Barleycorn Awards, and New York International Spirits Competition. The company has garnered widespread popularity for its flagship brands, Blue Note Bourbon Premium Small Batch and Riverset Rye. The company's products have already acquired distribution in thirteen states, including recent expansions into Alabama, Colorado, Connecticut, New Jersey, New York, Missouri and Texas, with more on the horizon.
"We pride ourselves on making quality whiskeys with impeccable attention to both taste and detail," said McCauley Williams, President and CEO. "We put a lot of heart into our products, taking the time to hand craft each batch and bottle. We know that our customers appreciate this extra attention. These awards are an excellent indication of the hard work our entire team continues to put into making Blue Note Bourbon and Riverset Rye exceptional products. It's a team effort driven by our collective passion."
B.R. Distilling Company's Blue Note Bourbon is a classic, full-bodied straight bourbon whiskey with notes of maple, caramel, and vanilla and is recognized for its long, velvet finish. Just like the unmistakable sound of the Memphis blues, Blue Note Bourbon is bold, yet smoother than smooth. Blue Note Bourbon is offered in three different expressions, all with a similar smooth taste, including Blue Note Bourbon Premium Small Batch (MSRP $52.99), Blue Note Juke Joint (MSRP $29.99), and Blue Note Bourbon Single Barrel Reserve (MSRP $59.99).
Riverset Rye is a companion to B.R. Distilling Company's bourbon expressions and stands alone as its own brand. A four-year-old straight rye whiskey, Riverset is born from a select few barrels curated to complement each other in a manner that combines an array of rich autumnal flavors. With initial, delicate hints of cinnamon apple and vanilla on the nose, Riverset is a truly unique whiskey. It is an approachable rye that can be served on the rocks or in a classic cocktail.
More details about Blue Note and Riverset Rye bottles
Blue Note Bourbon is artfully crafted to honor the blues music that came from the streets of Memphis. Blue Note Juke Joint, along with Blue Note Premium Small Batch and Blue Note Bourbon Single Barrel Reserve, are part of B.R. Distilling Company's bourbon portfolio. More information can be found at www.bluenotebourbon.com.
Riverset Rye is a small batch rye whiskey crafted in Memphis from the spirit of rock n' roll. Aged along the banks of the Mississippi River for a minimum of four years, at 93 proof, every sip tells a story. More information can be found at www.riversetrye.com
For more information visit B.R Distilling website
More Whisky News