The Macallan Launches Limited Edition Diamond Jubilee Bottling - 31st May, 2012
Published Date: 32st May 2012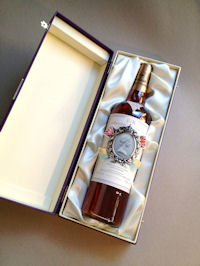 The Macallan is celebrating Queen Elizabeth's 60th year on the throne with the release of a stunning limited edition commemorative Diamond Jubilee bottling. The specially designed bottle bears a unique image of Her Majesty Queen Elizabeth II created by the sculptor Arnold Machin. With only 2012 bottles available, and like The Macallan's previous commemorative royal bottlings, this edition is expected to be highly sought after by collectors from the worlds of whisky and art.
The pack was designed by acclaimed Art Director David Holmes, who was responsible for the 2011 Macallan Royal Marriage edition. Arnold Machin's magnificent image of the Queen is displayed on an intricately designed ceramic brooch which sits proudly on the bottle's label. The distinctive image, depicted here on a product for the first and only time, was one of a series of effigies created by Arnold Machin OBE RA. A development of this design was later used on all definitive issue British postal stamps.
Commenting on the special commemorative Diamond Jubilee edition David Holmes said; "A Royal Diamond Jubilee is extremely rare and should be celebrated with flair and unique exuberance. With this in mind and taking inspiration from a brooch gifted to Queen Victoria on her Diamond Jubilee, it was imperative to keep the design sophisticated. The motivation behind the colours stemmed from the tones so often favoured by the Queen, pale blue, pale yellow and pale green. These colours complement the product's subtle tones perfectly when presented in the display case which, with its cushioned regal purple lid has the feel of a jewellery box. In a year of celebrating Britain, all elements of production were British based. The antiqued pewter surround was made in Scotland, the cameo in Staffordshire and the flags and ribbons are all made in Britain."
The golden amber liquid has been specially chosen for the months it was drawn from the casks, 6th February, the Queen's accession and the first week in June, traditionally when the Jubilees are celebrated. Bottled at 52%, in line with the year of the Queen's accession, the exceptional sherry cask matured single malt gives hints of citrus fruits, ginger and clove.
Ken Grier, Director of Malts at Edrington commented; "The Macallan is honoured to showcase and play host to such an iconic British emblem. This unique combination between art and whisky results in an exquisitely designed creation which continues our exceptional attention to detail in all The Macallan products. Our Whisky Maker, Bob Dalgarno has put together a superb single malt which carries the character and nobility of the occasion it commemorates, whilst David Holmes has given us a truly inspiring way to use this iconic image"
The 2012 bottles are available from The Macallan Distillery Visitor Centre for UK collection only and online for UK customers at www.themacallan.com at a price of £350. Limited quantities will also be available via selected luxury retailers. Bottles will be available for sale from 31st May 2012.
<< View Single Malt Whiskies in The Macallan range
<< Back to all the latest whisky news brought to you by Planet Whiskies