New Irish Whiskey With A French Connection Writers' Tears Copper Pot Deau XO Cognac Cask Finish
Published Date: 6th February 2019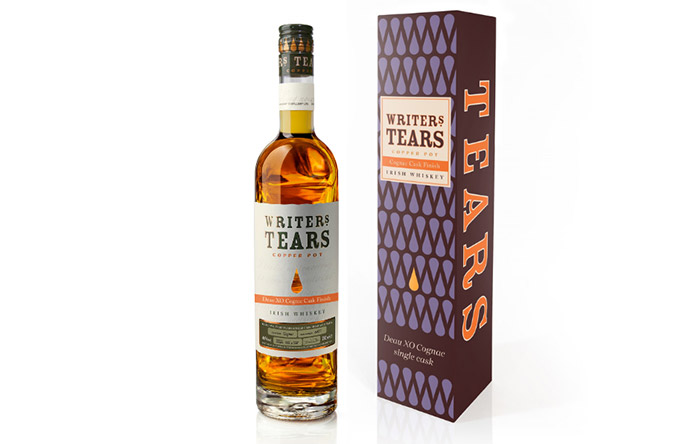 Carlow, Ireland: 5 February, 2019:  Walsh Whiskey has released Writers' Tears Copper Pot - Deau XO Cognac Cask Finish, a super-premium edition of its universally popular Writers' Tears Copper Pot Irish whiskey. It is the fourth expression released under the Writers' Tears range. On this occasion Founder Bernard Walsh has finished his unique blend of aged Single Malt and aged Single Pot Still whiskey for nine months in 12 French Oak Casks that have been seasoned for 10 to 15 years with Deau XO Cognac. The 46% ABV, triple-distilled, non-peated, super-premium whiskey is available in just eight markets worldwide including the USA, Ireland, Travel Retail (Ireland), Germany, Holland, Canada, France & the UK. The RRP is €74.99/STG £67.99. 
Introducing the Writers' Tears Copper Pot - Deau XO Cognac Cask Finish, Bernard Walsh explained the craftsmanship that has gone into every stage of the whiskey's development: "Everything about this expression comes from the highest quality inputs, from our own unique blend of triple-distilled Single Malt and aged Single Pot Still whiskeys, to the finish in French (Limousin) Oak casks from the renowned family cooperage of Allary that have been seasoned by the Legaret family's Deau XO Cognac for between 10 to 15 years. Everything builds to a special experience that we are very proud to put our own family name to and are delighted to share with fans of the Writers' Tears portfolio, as well as those who might be trying a Writers' Tears expression for the very first time. Sláinte!" 
Tasting Notes
Nose - Succulent notes of poached pear, summer berries, hints of freshly pressed grapes and citrus zest.
Taste - Creamy smoothness with rich chocolate undertones.
Finish - Floral and fruit aromas make way for an undeniably bold finish.
<< Read more about Irish Whisky Distilleries
<< View Irish Whiskey to buy online
<< View Scottish Single Malts on Planet Whiskies
<< Back to all the latest whisky news brought to you by Planet Whiskies