Clegg praises strong scotch whisky export figures during visit to Strathisla Distillery
Published Date: 20th January 2011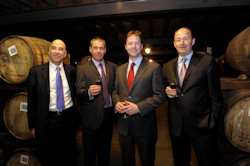 Employees of Chivas Brothers, the Scotch whisky and premium gin business of Pernod Ricard, welcomed Nick Clegg to Strathisla Distillery in Keith today. Following an exclusive tour of the historic site, the Deputy Prime Minister announced that, according to the Scotch Whisky Association (SWA), the value of whisky exports during the first ten months of 2010 reached £2.8bn* - an increase of 12 per cent on the same period the previous year.
Speaking at the home of Pernod Ricard's icon brand Chivas Regal, Mr Clegg said: "I would like to raise a toast to the Scotch whisky industry, as 2010 shapes up to have been a record year for exports. I was glad to see evidence this morning of the verve and ambition in Scottish industry.
Mr Clegg also commented "The dynamic Scotch whisky companies are making great strides to exploit new markets and new opportunities and the UK Government will continue to do whatever we can to assist them."
Christian Porta, Chairman and CEO of Chivas Brothers Limited, commented: "This is hugely encouraging news for the Scotch whisky industry and we look forward to the SWA's complete 2010 export data when it is published later this year. Following a more challenging environment in 2009, it is great for the industry to see a strong growth pattern emerging again.
Mr Porta added: "Hosting Mr Clegg at Strathisla Distillery today is very fitting as it is the home of Chivas Regal, a truly global super-premium Scotch whisky brand. We are very confident of the continuing strong growth in our brands, especially in all the fast emerging markets."
Chivas Regal sells 4.2 million 9L cases** annually and is the No 1 super-premium Scotch whisky in Europe.*** It is also the leading imported spirit in China, where 25% of the global luxury category is represented. The Chivas Regal range is the epitome of style, substance and exclusivity and includes Chivas Regal 12, 18 and 25 Year Old.
<< Back to all the latest whisky news brought to you by Planet Whiskies