Wemyss Malts and Darnley's View Gin appoint a new sales manager - 11th July, 2012
Published Date: 11th July 2012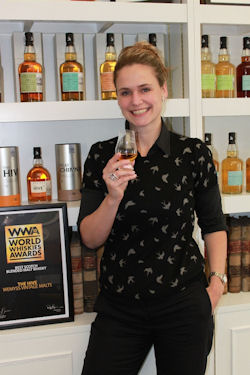 Edinburgh based Wemyss Malts is delighted to announce the recent appointment of a new regional sales manager, Jenny Karlsson.
Swedish born and self-professed whisky lover, Jenny has lived, studied and worked in Scotland for 15 years. While studying Brewing, Distilling and Food Technology at Heriot Watt University, she developed her whisky knowledge working in one of Edinburgh's leading whisky shops.
Utilising her distilling background and talent for languages (3 and counting!), Jenny moved to Campbeltown in 2010 to join Springbank Distillers in sales and marketing.
Jenny is joining Wemyss Malts at an exciting time. Indeed, William Wemyss, CEO and founder of Wemyss Malts, commented; "We are delighted to have Jenny join the Wemyss Malts team. Her extensive whisky and industry knowledge are already proving to be invaluable. "
Commenting on her new role, Jenny adds: "Having the opportunity to work for a family company with great historical connections, as well as being an innovative Scotch whisky and gin company is a real opportunity for me. I am really looking forward to working with this great range across the world"
Read more about Wemyss Malts and buy online
<< Back to the Wemyss Malts main page
<< Back to all the latest whisky news brought to you by Planet Whiskies