Irish Distillers Sweeps The Board At Icons Of Whiskey Awards 2012
Published Date: 26th March 2012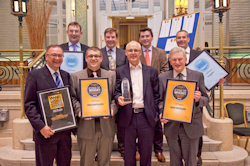 Irish Distillers Pernod Ricard, makers of the world's No 1 Irish whiskey, Jameson, has been named Whiskey Distiller of the Year and Whiskey Brand Innovator of the Year at the Icons of Whiskey Awards 2012. Single pot still whiskey Powers John's Lane Release was also recognised, scooping the prize for Best Pot Still Whiskey within the World Whiskies Awards, at a ceremony held at the Waldorf Hilton in London.
The three awards underline a hugely successful and innovative year for the company, in which it demonstrated its unique distilling capabilities and a vision for the future of the Irish whiskey category. Highlights included the launch of the Single Pot Still Whiskeys of Midleton initiative, which introduced Powers John's Lane Release, Midleton Barry Crockett Legacy and Redbreast 12 Year Old Cask Strength, while Jameson introduced the newest product in the Reserve range, Jameson Select Reserve.
Anna Malmhake, CEO for Irish Distillers, says: "We are delighted with this phenomenal result, especially as the Icons of Whiskey are among the most respected whiskey awards in the world. This is an exciting time for Irish whiskey and to be recognised as Distiller and Brand Innovator of the Year is a true testament to the continued contribution of our skilled and passionate distillery team at Midleton."
Last night's accolades follow a spate of recent successes for Irish Distillers including Distillery of the Year at the Whiskey Advocate Awards and the Whiskeys of the World Trophy at the 2011 International Spirits Challenge for Midleton Barry Crockett Legacy. Respected whiskey writer Jim Murray awarded 96.5 points to Powers John's Lane Release, making it his 2012 Whiskey Bible Irish Whiskey of the Year and the highest ever scoring Irish whiskey in the history of the Bible.
<< Back to all the latest whisky news brought to you by Planet Whiskies