The Black Grouse page on Planet Whiskies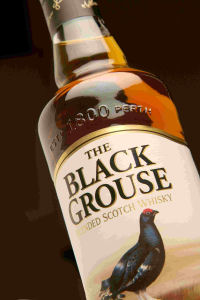 Welcome to the The Black Grouse page on Planet Whiskies. This whisky is a new addition to The Famous Grouse family with The Black Grouse fast becoming a great blend as it has already won an award as 'Best New Scotch Blended Whisky' in Jim Murray Whisky Bible for 2008. It was describe there are a whisky which is a 'real treasure' and has a finish which is gentle and rewarding. After tasting The Black Grouse myself I felt it was full of body and a very balanced blend. It will be worth the wait. If you like to buy this whisky bible visit the online shop.
More to the background of this blended whisky and is a perfect example of a great blend. When you taste this whisky It fall between The Famous Grouse (as this whisky is used in the process) and a Islay Malt whiskies and this leads to a quote from Helen Potter who is innovation and development manager for The Famous Grouse, said: "At first taste you'll be surprised by the rich, flavoursome smoky influence of the peated malt whisky, then you'll experience the trademark smoothness of The Famous Grouse. The finish is long, smoky and aromatic and a just reward for embracing the darker side of Scotland's favourite whisky!"
Another quote is from Gordon Motion, the master blended of the The Black Grouse who said "We were still keen to retain the smoothness and rich sherry characteristics whish are synonymous with The Famous Grouse. With The Black Grouse we have created a beautifully balanced whisky with a smoky aroma and taste, but with a rich smooth and cream finish.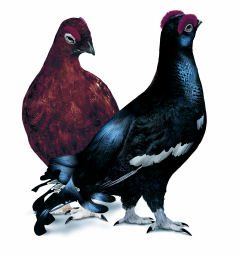 The Black Grouse has also entered into a partnership with the RSPB and will make an donation of 50p of every bottle sold. This is a great offer and it is to help for example the red grouse as this is one of the UK rarest birds which ofcourses is a distant relative of the black grouse. The money will be put towards the up keep and conservation work of over 85,000 acres of land within the UK.
If you would like to help the RSPB you can donate yourself with the below details
The RSPB is the UK charity (England and Wales no. 207076, Scotland no. SC037654) working to secure a healthy environment by working for the conservation of wild birds, other wildlife and the places in which they live in a wide variety of ways. For more information see www.rspb.org.uk
The Black Grouse Blended Scotch Whisky ~ 40% ~ 70cl
Region: Scotland ~ Type: Scottish Blended Whisky
Blended Scotch Whisky - Voted 'Best new Scotch Blended Whiskies in 2008 and is the brother of the Famous Grouse.
World-wide delivery available - Price Subject to Change
<< See other Blended Whiskies with the letter 'B'