Rampant Scotland Website
This page has been devoped on Planet Whiskies because of the special interest regarding the Rampant Scotland Website and the web creator of the site Scottie. He has added a few web links on his website over the last few years with whisky and non whisky website projects I have undertaken.
The Rampant Scotland website has everything about Scotland that you could want to know about. There are of course special pages regarding the Scottish Whisky industry and links to Scottish Whisky websites. You will find all these links if you go to www.rampantscotland.com/food.htm.
Below is information that Scottie created for the computescotland.com and I have been granted permission to publish this article in full. Enjoy!
In the run up to looking at how anyone selects help to build a website or happily goes the DIY route, ComputeScotland takes a look an one site that anyone wanting to keep an eye on their lairs kingdom, will have inevitably stumbled over, that is Scotland archivist,'Scottie' and his comprehensive guide to all thing Scottish at the Rampant Scotland site.
As a subscriber to Scottish Snippets newsletter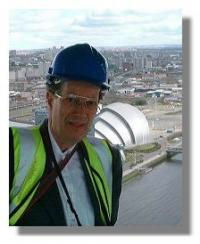 (among some of the recent offerings have been Blair Castle and Sunsets, Tuscany in Fife , and Mexico in Edinburgh) ComputeScotland asked had he built it himself, or with help and why?

"OK," said the redoubtable Scottie (right atop the Glasgow Tower), "Get a cup of coffee - here's the background to Rampant Scotland....

"In 1995, my ISP, Colloquium in Paisley, offered users some free disk space to use as a "home page". I had been responding to questions on various Scottish-related newsgroups (remember them?). I had a small library of reference books but also used the rather poor search engines of the day to find sites which answered some of the questions.

"So it seemed like a good idea to create a directory of Scottish-related web sites. Since I was fed up with search engines in those days that gave a link but no idea of the content at the other end I decided to include a short narrative describing the site (based on what I saw). That began in January 1996. It ran for a couple of years and grew and grew.

An export market

"Then in 1998, the New York-based Mining Co (later to become About.com) invited me to become their "Guide to Scottish Culture" using the links as a starting point but also looking for a flow of articles on "Scottish Culture" - which I defined as anything to do with Scotland that interested me!

By September 2001, I had provided more than 1,500 feature pages and 2,000 photos, and - with 400,000 page views a month - About.com's Scottish Culture site was in the top 20% of their Guide sites. I may say that About.com paid us guides a share of advertising income which made it all worth while!

However, About.com dropped my site (and 300 others) in October 2001 when they reorganised and refocused their business. So I set about posting all that content onto my personal links site (copyright remained with me).

"Within a month, over 1,000 pages were set up with over 1,200 photos, complementing the original links directory. There was a brief spell when I sold the site to an entrepreneur, but he made more money out of an employment bureau site, and eventually gave it back to me when he sold the bureau!

School of the self taught

"I learned HTML from a book and articles on the Web - and copying bits of coding for things I thought useful (view/source is useful for that). This was long before style sheets so it's still all done by basic HTML and my own templates as I've stayed in a bit of a time warp as you can see from the continued use of icon graphics).

"The lack of style sheets really only becomes a problem when I update my "site map" at the end of each page, but search and replace software works very well, if a bit tedious. I use templates created by myself for the layouts to most of the articles as well as the annual calendar for people to produce on their own printers.

"Apart from a few articles (mainly hotel and restaurant reviews, articles on Scottish place names and - recently - a few articles by a friend) all the content is written by myself - graphics are usually mine as well.

"I use a basic HTML editor which is a glorified notepad with icons to create the more common coding. I've tried other, newer software but stick with this basic system. I do think my site and layout is 'old fashioned' and lacks many of the more glitzy modern techniques.

On the other hand, although the page numbers declined a bit after bringing to an end the regular Snippets Newsletter last March, I still get around a million page views each month. Not bad for a personal Web site!

(Below: Rare picture of the photographer author Scottie, offering a promotional hand against a background of familiar ramparts.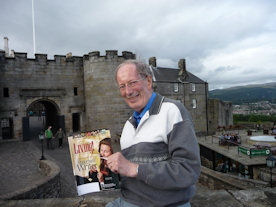 Although I never became a computer programmer, I went on my first computer course in 1964 and spent most of my banking career in IT management. Latterly, I was with TSB Bank Scotland - and pushed for us to be the TSB Group pilot for "Office Automation" with desktop PCs linked to our mainframe computer.
"That was in 1984... I've had a PC since those days (nobody stopped me putting the office PC in the boot of the car for the weekend until I eventually got one of my own).