Latest News - Useful information from the whisky industry in May 2009
Below is a full list of whisky news on Planet Whiskies. But if you would like to browse through the latest news month, by month please click on the below links and this will take you to the month in question. I have only been collection the latest whisky news for the last few months, but over time these links will increase.
Before March 2009 ~~ March 2009 ~~ April 2009 -- May 2009 ~~ June 2009 ~~ July 2009 ~~ August 2009
September 2009 ~~ October 2009
Planet Whiskies will bring you the latest whisky press releases from around the world - May 2009
Latest News - Whisky industry - The Famouse Grouse Launches 'The Famous Dad Dance' 29 May 2009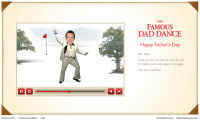 Dad's all around the UK will be in for a laugh this Father's Day (21st June 2009), as The Famous Grouse launches its entertaining new microsite 'The Famous Dancing Dad'.
At www.thefamousdaddance.com, visitors can use a photograph to customise and create a film of their own dad performing a typically embarrassing dad-like dance, before sending it on to the man in question and sharing it with friends and... Click to read more
Latest News - Whisky industry -

Chivas Regal serves the stars at prestigious private bar in Cannes - 22nd May 2009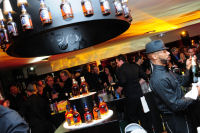 Chivas Regal, the world's first luxury whisky, has been at the centre of the celebrity party scene in Cannes over the last two weeks with residence at Chacha, the prestigious Parisian private venue which is positioned on the famous Croisette and produced by event agency ADR Production.
As the official Scotch whisky supplier to the 62nd Cannes International Film Festival, the globally revered brand has been enjoyed by the world's most glamourous party-goers at the Chivas Regal bar, located in the centre of the exclusive Chacha scene. Click to read more
Latest News - Whisky industry - Templeton Rye Newsletter - May 2009
Greetings, Templeton Rye fans! Kevin Boersma, Distillery Manager here, giving you a quick update on things that are going on around the distillery in Templeton. We have been working hard on several projects including installing barn boards on a portion of our exterior, new copper rain gutters and a new sign on the outside of the distillery (photos below). We are just finishing up on a big landscaping project on the west side of the distillery where we planted an assortment of native grasses and flowers. It is going ... Click to read more
Latest News - Whisky industry - Chivas Brothers renews sponsorship of newly promoted Dumbarton Football Club - May 20th, 2009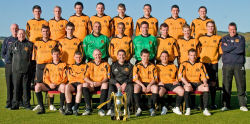 Chivas Brothers, the Scotch whisky and premium gin business of Pernod Ricard, has announced it is to sponsor Scottish Football League team Dumbarton FC for the fourth consecutive season with its Ballantine's Scotch whisky. The latest deal will run from the end of August 2009 until July 2010 and will see the continued use of the Ballantine's logo on the team's home and away strip.
Commenting on the sponsorship, Christian Porta, Chairman and CEO of Chivas Brothers says: "We are delighted to announce that Dumbarton's most famous whisky, Ballantine's, will continue to be associated with its most famous football team. Click to read more
Latest News - Whisky industry - Glengoyne Single Highland Malt Whisky May 20th, 2009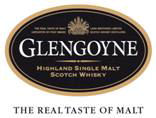 20 May 2009, Edinburgh: Award-winning Glengoyne Highland Single Malt has successfully secured an exclusive presence at Europe's largest and most renowned audio-visual event, the HIGH END show in Munich (21-24 May), thanks to a unique partnership with fellow Scottish brand, Tannoy.
Built on the companies' shared commitment and passion for outstanding craftsmanship and only the highest quality, the collaboration at HIGH END brings together Tannoy's renowned 'Made in Scotland' heritage, with Glengoyne's authentic 'Real Taste of Malt' credentials. Click to read more
Latest News - Whisky industry -

Ian Macleod Distillers Launch Rare Single Malt - Chieftain's 40 Years Old Springbank -

- May 19th, 2009
19 May 2009, Edinburgh: Independent bottlers and distillers, Ian Macleod Distillers, is to launch an extremely rare, limited edition Springbank 40 Years Old from its award-winning Chieftain's Single Malt Whisky collection to the domestic market in the UK and worldwide.
Distilled in 1968 at the famous Springbank Distillery, Campbeltown, only 398 bottles of this exceptional natural strength, natural colour and unchill-filtered whisky are available. It is the last, oldest and the best Springbank cask available from the current Chieftain's collection. Click to read more
Latest News - Whisky industry - Glengoyne Single Highland Malt Whisky May 19th, 2009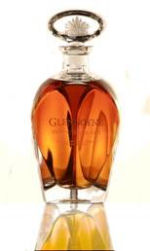 Dumgoyne, 19 May 2009: For the first time in its 175 year history, award-winning Glengoyne Distillery is to release its oldest, most valuable, and very best, Highland Single Malt: the Glengoyne 40 Years Old.
The embodiment of Glengoyne's famed unpeated and authentic 'Real Taste of Malt', the natural strength 40 Years Old Highland Single Malt is regarded by the distillery to be one of the finest whiskies they have ever produced. Its superior quality and flavour reflecting Glengoyne's long standing commitment and enthusiasm for their craft and heritage.
Every detail of the design and presentation of the Limited Edition Single Malt was carefully considered to reflect the outstanding character and craftsmanship of the Glengoyne 40 Years Old. Even the producer of the stunning hand blown crystal decanter, Glencairn Crystal, a well-respected independent Scottish family company, was specially selected for its shared. ... Click to read more
Scotch exports show international resilience - Scottish Whisky Association - 8th May 2009
Global exports up 8% in 2008, breaking £3 billion barrier for first time

Exports earned £97 a second for the UK balance of trade

Industry predicts challenging 2009 but remains confident on long term
prospects.
Scotch Whisky exports reached a new high of over £3bn in 2008, underlining the industry's vital importance to the Scottish and wider UK economy
In new figures published by The Scotch Whisky Association (SWA), the value of shipments increased by 8% to £3.06bn, earning £97 a second for the UK last year. For the fourth consecutive year, both bottled Malt ... Click to read more
Glengoyne 14 Year Old Heritage Gold - Glengoyne May 2009 Newsletter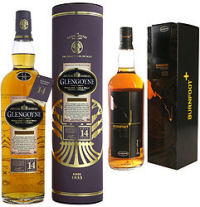 Below is a snippet of the May newsletter for the Glengoyne Distillery. You can read more from the May newsletter by clicking on the read more link just below.
Celebrating the golden history, authenticity and craftsmanship encapsulated by Glengoyne for over 175 years, the Glengoyne 14 Years Old Heritage Gold was launched as our new travel retail exclusive at TFWA in Cannes October 2008.

This contributes to the developing portfolio of exclusive travel retail products which at present also includes Glengoyne Burnfoot.

Click to read the rest of the May 2009 Newsletter
Landmark exhibition tells the story of Scotch - Scottish Whisky Association - 6th May 2009

Over five hundred years of Scotland's national drink will be brought alive this May and June with a landmark exhibition telling the story of Scotch Whisky through archive treasures held in the vaults of both the National Archives of Scotland and private industry collections.
For the first time in many years, the earliest written record of whisky distilling in Scotland will be on public display. The famous 515 year old Exchequer Roll is considered to be the industry's 'founding document' and records King James IV granting Friar John Cor of Lindores Abbey 'eight bolls of malt wherewith to make acqua vitae'. Click to read more
Ardbeg Supernova Launched Today – Peatiest Whisky ever Produced by the Islay Distillery - 5th May 2009
Advance online release of 3000 bottles sells out in 112 minutes – fastest selling whisky in company's 194-year history

An iconic whisky distillery on the remote island of Islay – which has won the coveted World Whisky of the Year title two years running – has launched a new single malt called Supernova, which the company is describing as "the peatiest Ardbeg ever".
Three thousand bottles of Ardbeg's latest whisky sold out in just 112 minutes when it was offered for sale online to a group of enthusiasts – making it the fastest selling whisky in the famous distillery's 194-year history. It is now on general release from today (Tuesday 5 May). Click to read more