Latest News - Useful information from the whisky industry in July 2009
Below is a full list of whisky news on Planet Whiskies. But if you would like to browse through the latest news month, by month please click on the below links and this will take you to the month in question. I have only been collection the latest whisky news for the last few months, but over time these links will increase.
Before March 2009 ~~ March 2009 ~~ April 2009 -- May 2009 ~~ June 2009 ~~ July 2009 ~~ August 2009
September 2009 ~~ October 2009
Planet Whiskies will bring you the latest whisky press releases from around the world - July 2009
Latest Whisky News - Glengoyne hosts BBC Golf Correspondents' 10th Annual Dinner - 24th July, 2009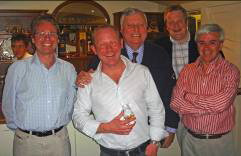 24.07.09, Dungoyne: Glengoyne Distillery recently hosted the cream of the golf broadcasting world for an exclusive dinner, crafted by award-winning Chef Tom Lewis, and tasting of the rarest and most valuable Glengoyne, The 40 Year Old.
Held during The Barclay's Scottish Open at nearby Loch Lomond the regular event, now in its tenth year, originally started as a way for the hardworking BBC golf team to let their hair down during a busy season. The annual dinner has grown in numbers over the ...Click to read more
Latest News - Whisky industry - All our experience, distilled into one collection - July 22nd, 2009

The Macallan 1824 Collection is a new family of single malts from The Macallan. Developed exclusively for the brand's third largest market - Global Travel Retail -where it has been the fastest growing major Single Malt in the last five years and is currently ranked number two by volume.
The Collection is available in all key Travel Retail outlets in the Americas and Europe and has just been launched in Asia at Singapore airport. The Select Oak expression has secured listings onboard a number of airlines including Air Canada, Delta, American Airlines and Continental. ...Click to read more
Select Oak ~~ Whisky Maker's Edition ~~ Estate Reserve ~~ The 1824 Limited Release 1824 decanter
The Famous Grouse Master Blender retires after 40 years in industry - 15th July 2009
The Famous Grouse recipe to be passed on to the next generation.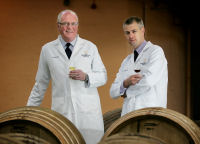 15.07.09 -John Ramsay, Master Blender for The Edrington Group has announced that he will be retiring from his position on 31 July 2009. Following a two and half year handover, Gordon Motion, will take over as the company's new Master Blender.
The position of Master Blender is unquestionably one of the most important and complex roles held in the whisky industry, highlighted by the fact that only six such positions exist across all of the major Scottish distillers. ...Click to read more
Templeton Rye Whisky news - Straight from the still - 1st July 2009
Hey all, quick update for you from the Templeton Rye intern!

Over the past month and a half I have gotten to know the Templeton Rye brand and even more importantly, the Templeton Rye team. I've had a great experience so far and I've been learning a lot. Since starting in May, I have had the opportunity to work on several important projects and events and have been getting to know a lot of Templeton Rye fans! ...Click to read more

Scottish Whisky Association - Turkey whisky tax reform toasted by distillers - 1st July 2009

An agreement between the EU and Turkey, eliminating tax discrimination against Scotch Whisky,has given a major boost to Scotch Whisky's prospects in Turkey, an important emerging market for distillers.
News of the breakthrough on spirits tax reform, part of Turkey's EU membership talks, follows a 30 per cent reduction in the tax discrimination faced by Scotch Whisky in Turkey in April 2009. ...Click to read more


The Famous Grouse experience invests £500,000 in new state-of-the-art interactive show - 1st July 2009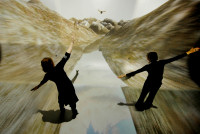 The Famous Grouse Experience, Scotland's most visited distillery, has invested half a million pounds to create a brand new interactive 3-D show using pioneering new technology to take visitors into the world of The Famous Grouse.
The new show will launch on 2nd July 2009 and follows on from the first, hugely successfully show, which first opened seven years ago and was awarded a BAFTA for Best...Click to read more