Latest News - Useful information from the whisky industry in April 2009
Below is a full list of whisky news on Planet Whiskies. But if you would like to browse through the latest news month, by month please click on the below links and this will take you to the month in question. I have only been collection the latest whisky news for the last few months, but over time these links will increase.
Before March 2009 ~~ March 2009 ~~ April 2009 -- May 2009 ~~ June 2009 ~~ July 2009
Planet Whiskies will bring you the latest whisky press releases from around the world - April 2009
Latest News from The Glenrothes Distillery opens its doors to the public - 22 April 2009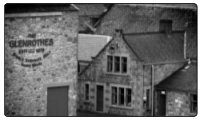 The Glenrothes distillery in Speyside will be opening its doors to the public on Friday 8 May, offering a rare opportunity to discover the secrets of the award winning single malt. Established in 1879, The Glenrothes has historically been closed to the public.
As part of the Speyside Festival celebrations, the distillery will be running two exclusive tours of the distillery in Rothes. Guided by Brand Ambassador Ronnie Cox and Speyside ... Click to read more
High visitors numbers give Glengoyne a cracking good Easter - 17th April 2009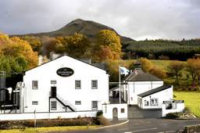 Dumgoyne, 16 April 2009; Scotland's most beautiful distillery, Glengoyne, has experienced a massive upsurge in tourists this Easter week, reporting the best visitor figures over the spring holiday in the distillery's 175 year history.
Eager to learn about Glengoyne's 'Real Taste of Malt', several hundred holidaymakers, the majority from England and northern Europe, visited the distillery during the Easter break – more than the last two years' Easter weeks combined.... Click to read more
£3m New Look for Whisky's Biggest Attraction - Scotch Whisky Experience - 17th April 2009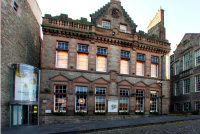 The Scotch Whisky Experience, Edinburgh's five-star visitor attraction dedicated to exploring the story of Scotch whisky, is set to unveil a £3m new look for its popular whisky tour. Representing a major investment for the attraction, the new tour journeys from barley to bottle, exploring the diverse Scottish regions and unique processes of whisky production and culminating in an exclusive visit to the World's Largest Collection of Scotch Whiskies.
Set at the top of Edinburgh's Royal Mile, The Scotch Whisky Experience is ideally located in the heart of the old town and only a stone's throw from historic Edinburgh Castle. The new tour takes a fresh approach to the visitor experience, blowing away the myths and stereotypes which surround Scotch whisky.... Click to read more
The Famous Grouse burns limited edition bottle raises money for hit- 8th April 2009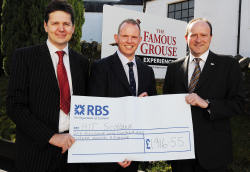 The 250th anniversary of Robert Burns wasn't simply a chance for thousands of revellers to enjoy a wee dram. The Famous Grouse, Scotland's Number 1 whisky, helped many charities to enjoy a more prosperous 2009 by creating 250 limited edition bottles of 37 year old blended malt.
In keeping with the humanitarian spirit of Burns, these bottles were only available for charity auction or raffle with a minimum value of £400. As a result, over £70,000 was raised at Burns Suppers and similar events around the world from auctioning The Famous Grouse limited ... Click to read more
Latest News - Glengoyne Single Highland Malt Whisky April 02nd, 2009

02.04.09, Edinburgh: Glengoyne Single Highland Malt is building on its 'Real Taste of Malt, Real Taste of Food' credentials this Homecoming Scotland year, by forming a unique partnership with celebrated Chef Tom Lewis, of Monachyle Mhor, and iconic Scottish food producers Loch Fyne Oysters. Click to read more