GlenDronach releases latest batch of its single cask bottlings - 3rd December, 2013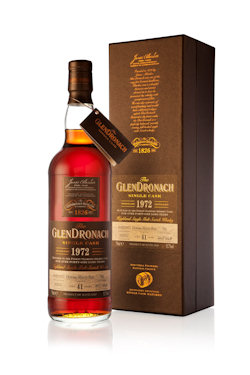 "AWARD-WINNING GLENDRONACH has today, 3 December, released Batch 9 of its succulent single cask bottlings, selected as always by Master Blender Billy Walker.
The magnificent nine, ranging from 41 to 18 years old, share GlenDronach's typically richly-sherried signature taste complemented by notes of almonds, cherries, raisins, prunes and lime…even cracked black pepper, cocoa beans and red chilli sauce!
Six were matured in Pedro Ximenez sherry puncheons while the other three come from Oloroso sherry butts. The result is a swirling and mesmerising range of expressions – from delicate sweetness to puckering malt monsters.
The oldest is a 41 year-old Oloroso sherry butt distilled in February 1972 – cask # 702. Bottled at 51.7% vol, this veteran is a complex, fiery wonder - rich dark oak edged with deep ruby. On the nose, it gives sumptuous depths of classic sour cherries dusted with gentle toasted almonds. And on the palate, it's a beautifully elegant vintage sherry style bursting with a combination of dark espresso, molasses, herbs and oak spices.
And as a contrast, the youngest in the batch is an 18 year-old distilled in April 1995. This Pedro Ximenez sherry puncheon, cask number 3302, was bottled at 53.7% vol. It is rich golden burnt amber in appearance. On the nose, vibrant citrus zest combines with touches of wild mint and oak spice while on the palate an initial sweet chocolate and vanilla fullness moves to a delicate lasting zest and herb note.
The batch details are:
1972 cask # 702 / 41 years old / Oloroso Sherry Butt / 51.7% vol
1985 cask # 1035 / 27 years old / Pedro Ximenez Sherry Puncheon / 53.7%vol
1989 cask # 5470 / 23 years old / Pedro Ximenez Sherry Puncheon / 49.2%vol
1990 cask # 1243 / 23 years old / Pedro Ximenez Sherry Puncheon / 50.6%vol
1991 cask # 5405 / 21 years old / Pedro Ximenez Sherry Puncheon / 49.9%vol
1992 cask # 195 / 21 years old / Oloroso Sherry Butt / 59.8%vol
1993 cask # 5 / 20 years old / Oloroso Sherry Butt / 53.0%vol
1994 cask # 3385 / 19 years old / Pedro Ximenez Sherry Puncheon / 53.4%vol
1995 cask # 3302 / 18 years old / Pedro Ximenez Sherry Puncheon / 53.7%vol

For more information, go to www.glendronachdistillery.com.uk or email info@glendronachdistillery.co.uk
See all the Single Malts Whiskies from BenRiach Distilery
Read more about the history and see contact details for BenRiach distillery
<< Back to all the latest whisky news brought to you by Planet Whiskies